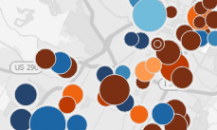 Introduction to Data Visualization Using Tableau Public
With Steve Batt
Tableau Public allows anyone to explore and present quantitative information in compelling, interactive visualizations. This hands-on session will work with several prepared data files to create online interactive bar graphs, scatterplots, thematic maps, and much more.
Monday, October 26, 12:35-1:35
Hartford Campus, ITC Room 113
Please register for this workshop at http://workshops.lib.uconn.edu/?sessionid=725
For more information, please call Janice Mathews, 860-570-9105.