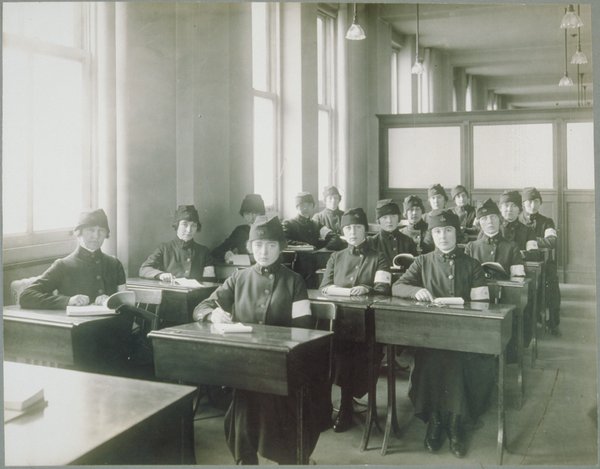 This photograph from 1918 shows women previously employed as telephone operators for the Southern New England Telephone Company getting ready to serve in the United States Army during World War I as Signal Corps operators in Europe. These women, all of them operators in Hartford, were specifically chosen for their positions because they were fluent in French.
On April 28, 1918, this Signal Corps class marched in a Liberty Bond parade in Hartford, holding the flags of the United States, France, Belgium, and Great Britain. The SNET company magazine, The Telephone Bulletin, cheered the women for their patriotism and bravery in preparing to go to the war front, writing "…the enthusiastic reception given these young women was wholly deserved, for with heads erect, shoulders thrown back and with martial tread, they made a striking appearance as they marched past the dense crowd on the sidewalks."
We are celebrating Women's History Month by showcasing a photograph from our digital repository each day on our Facebook page!  Check out our posts each day to see the history and awesomeness of women at UConn and around our beautiful state of Connecticut.