Archives & Special Collections staff member Tanya Rose Lane spent a great deal of time working on the Human Rights Internet Collection as a history student before completing her BA and being hired as an Assistant Archivist at the Thomas J. Dodd Research Center.  The following account reflects her experiences and findings while processing this extensive collection.
Few students are as fortunate as I am to do real, meaningful work while they are still completing their Bachelor's degree. Even fewer have the opportunity to work on a collection that truly stimulates interest within the student. This summer, performing the inventory for the Laurie S. Weisberg and Harry Scoble Human Rights Internet Collection here at the Archives & Special Collections at the Thomas J. Dodd Research Center has provided me the opportunity to not only preserve history but also preserve the stories of great American humanitarians.
Founded in 1976 by Laurie S. Wiseberg and Harry Scoble, the Human Rights Internet (HRI) is the leader in the advancement of human rights documentation and education. This organization currently communicates with 5,000 other organizations, working to circulate human rights documentation across the globe. HRI's programs help those in most regions of the world and cover themes such as conflict prevention, minority rights, women and conflict, good governance, reproductive health, and information technology.
The HRI collection contains documentation such as newsletters that are focused on the experiences of volunteers and dedicated social workers who spend time abroad. One such worker was a young man named Ben Linder. After graduating from University of Washington, Ben began working at a hydro plant in Managua, Nicaragua in 1983. In the late 1970's, Nicaraguans were a people faced with political and social turmoil under the Somoza dictatorship. Nicaraguans then became hopeful in 1980; the arrival of a new Sandinista government meant a new literacy and health care plan. Ben was inspired by Nicaragua's commitment to social programs that benefit the poor and used his engineering skills to vastly improve Nicaraguans' lives. In addition to his job at the hydro plant, Ben also helped young children in health clinics, frequently dressing up as a clown and unicycling for their entertainment. Totally transcending the role of engineer, Ben became a true community leader.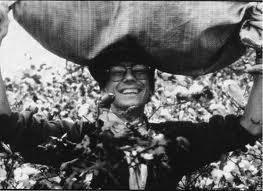 Benjamin Linder harvests cotton, Nicaragua, 1984. Photo by David Blankenhorn
Unfortunately, Ben Linder was tortured and killed on April 28, 1987 in an ambush by the Contras, a disgruntled resistance group of Somoza's National Guard in nearby Honduras. Unable to challenge the Nicaraguan army, the Contras would attack doctors, nurses, development workers, and teachers to intimidate the new government. When Ben's family could not convince any U.S. authorities to seriously investigate the case of Ben's death, they contacted the Center for Constitutional Rights in New York. On April 20, 1988, attorneys for the Center for Constitutional Rights filed a lawsuit on behalf of the family and estate of Benjamin Linder in the Federal District Court for the Southern District of Florida, charging principal Contra leaders for Ben Linder's death. As part of CCR'S dedication to advancing and protecting the rights guaranteed by the United States Constitution, the non-profit organization published a report  in 1988 that provides background information about the case and the Contra War. This report is available upon request to researches who visit the Archives and Special Collections at the Thomas J. Dodd Research Center. Journalist Joan Kruckewitt wrote more in depth about Ben Linder's story in her 1999 biography, The Death of Ben Linder, available at the Homer Babbidge Library.
For the family members and friends of dedicated humanitarians like the late Ben Linder, the publication, circulation, and preservation of human rights documentation is invaluable. Not only do these documents help us to understand his death but also celebrate his life and all of the incredible work he did for those deprived of human rights. The staff at Archives and Special Collections have a mission, to preserve materials so that a wider audience might know about human rights documentation. I am very grateful that I have been given the opportunity to participate in such meaningful work.
Tanya Rose Lane, Assistant Archivist