American foreign policy in the Middle East has long been characterized by uneasy alliances with unlikely partners.  For the last decade, our partners in the region have provided important support to American military operations in Afghanistan and Iraq. However, as the wars in both Afghanistan and Iraq come to a close many academics are beginning to question whether certain alliances have been as helpful as many believe. In particular, American support for Saudi Arabia has been unwavering since the 2001 attacks despite the majority of the hijackers' involved being Saudi nationals.  When compared with the human rights record of Saudi Arabia in basic legal proceedings one begins to question why American foreign policy personnel believe this relationship is beneficial for American image abroad.
In 1996 there was a terrorist attack on the Khobar Towers, a popular apartment building used by foreign military personnel in Khobar Saudi Arabia. Nineteen of those killed were American airmen. In response to this an open letter was written by Chandra Muzaffar (1996), Lessons from the blast: Opposition to US Alliance is strong within the kingdoms middle class.  The letter is very concise but provides an extreme amount of foresight into the future problems with United States involvement in the region. Firstly, it points out that the King of Saudi Arabia is considered the custodian of the holy cities of Mecca and Medina, and because US policy seems to dictate much of the royal families' actions many are beginning to view the United States as 'the custodian of the custodian'. Information obtained from the 9/11 Commission report has indicated that many of the hijackers from Saudi Arabia were indeed middle class well- educated persons.
During the 1990-1991 Gulf War many Saudi citizens felt that foreign military presence in the kingdom was insulting, and withdrawal should be considered to improve relations with the religious communities.   Osama Bin-Laden was known for publically calling out the Saudi government for allowing American military to be present in the kingdom for the same reason. The letter goes on to prescribe three suggestions to improve American relations in the region. First, as mentioned earlier the US should remove all troops from Saudi Arabia. Secondly, the US should persuade the Arab governments to allow for the growth of peaceful political movements given their current authoritarian rule. Finally, US should apply pressure on Israeli government to provide a fair two-state solution in Palestine. I would argue that this list of suggestions were reasonable and practical solutions to addressing anti-American sentiment in the region and if any of these were done before 2000 our image in the Arab world may have been significantly different than it is today.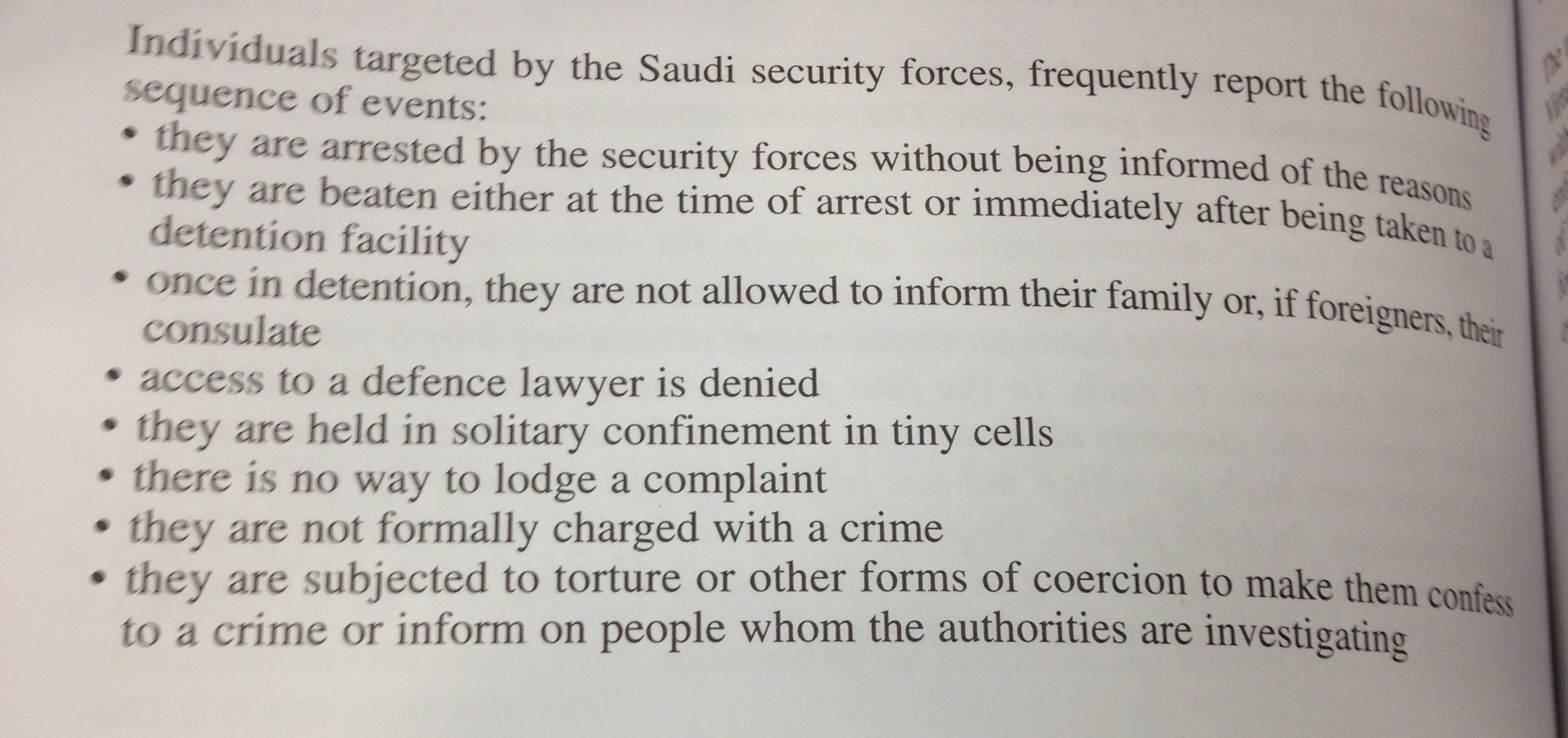 Arbitrary arrest, detention, torture and execution are all common practice in Saudi Arabia.  A report published by Human Rights Watch in 1997, Saudi Arabia: Flawed Justice: The Execution of `Abd al-Karim Mara`i al-Naqshabandi describes a story typical to that of many foreign workers in Saudi Arabia. Al-Naqshabandi was from Syria and moved to Saudi Arabia as migrant worker for a Saudi national. This is a common practice among economic migrants in the Middle East due to a lack of jobs in many countries. He was executed three years after being  arrested on charges of witchcraft having no prior legal record. This piece highlights the specific vulnerability of foreign workers in Saudi Arabia, many of whom are required to turn over their passports to a Saudi national during their stay and then are sometimes forced to endure slave-like conditions and to stay in the kingdom. Many try to appeal to the courts for legal remedies but are usually deported before back payments can be made. In the case of al-Naqshabandi he was a contractor doing work for well-connected individuals.
When conflict arose between him and his employer over contracts he was promptly fired and then brought to the Committee for the Propagation of Virtue and Prevention of Vice (CPVPV) or as westerners call them the 'moral police'. The CPVPV used the purchase of a religious amulet al-Naqshabandi had acquired from a Sudanese shayk to bring forward charges of witchcraft. While in custody of the CPVPV he experienced abuse, threats, and was forced to sign a false confession. He was executed three years later unaware that he was condemned to death. Contrary to the usual practice, there was no court session for either the conviction or the sentencing and apparently he did not know he had been sentenced to death. This case highlights many of the basic flaws in the Saudi legal system and also gives an example where many other cases have had similar outcomes. Saudi law is very vaguely written and many agencies like the CPVPV have broad powers to interpret religious crimes.
Further analysis of Saudi Arabian legal system and human rights violation was done by a group out of the United Kingdom, the Parliamentary Human Rights group published Torture in Saudi Arabia: no protection, no redress (1997) which focuses on the alleged acts of torture committed by Saudi law enforcement against British nationals working in the Kingdom. British media criticism of human rights violations in Saudi Arabia are often accused of jeopardizing UK trade relations, specifically multimillion dollar arms contracts. Elected officials rarely mention the systematic and widespread use of public beheadings, stonings, floggings, and forced amputations administered performed under the guise of being in line with 'Islamic Law'. These punishments were imposed after trials which are not conducted in accordance with internationally accepted judicial standards. This report gives detailed testimony from foreign nationals who were subjected to various forms of torture. Their stories show an endemic pattern of abuse by the Saudi justice system in forced confessions, torture, and forced deportation of foreign nationals along with Saudi nationals.
Despite the best efforts of Human Rights activists and reports by NGO's calling for reform in the Saudi government and rethinking American-Saudi relations has gone nowhere in the past decade. Recently President Obama's administration has begun to scale back support for Saudi Arabia which was most notable when Saudi Arabia turned down a rotating seat on the Security Council in the wake of a US-Iranian nuclear disarmament deal. Moreover, the American hydraulic fracking oil-boom has unexpectedly given Americans less reason for Mid-East involvement during this current period of withdrawal.
— Joseph Paquette
Related Materials Available at the Thomas J. Dodd Research Center:
Getting to know Saudi Arabia. Theodore O. Philips New York (1963)
Custodian of the two holy mosques, King Fahd bin Abdul Aziz. Fouad Al-Farsy Guernsey, Channel Islands : Knight Communications, 2001.

Torture in the eighties. Amnesty International. London  (1984).