Merlita Taitague is the Acquisitions & Electronic Resources Support Assistant for the Acquisitions & Discovery unit. She is at work behind the scenes coordinating the purchase of materials and managing our streaming video collection. Merlita is a UConn alumna (B.A., College of Liberal Arts and Sciences), recently celebrating 25 years of service during which she has been a member of our IT team, responsible for supporting donor development and stewardship, and as executive assistant for our former Vice Provost Brinley Franklin. If you ask any staff member they would tell you that no matter the work role, Merlita is most respected for her willingness to step into any project and do whatever it takes to make it successful. Take a minute to get to know Merlita.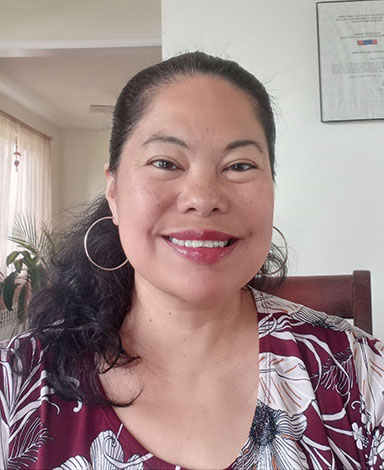 What do you love most about working in a library?
I've had the privilege of assisting many interesting library users over the years. One of my favorites was an artist who named a shade of colored pencil after me. Another was a world-renowned geographer and former world chess champion. After a long discourse about the virtues of fountain pens (he had one for every year from 1892 to 1959, including his favorite, made from the underbelly of a crocodile that lived in an African lake the name of which I can't remember), he proceeded to treat me to a lecture on the history of chess-playing computers. Then there was the grad student who was so grateful for my help that he brought me and a colleague beef patties from my favorite Jamaican bakery.
In the midst of the pandemic, what do you do to take your mind off the crazy things happening in the world right now?
I do yoga, or I walk my dog on the beach.
What is a positive that has come from this pandemic?
Michael Bevacqua, a Chamorro Studies scholar, has volunteered countless hours of his free time teaching Chamorro language classes to people on Guam. For years, he held these informal sessions in person, meeting on Saturdays in a coffee shop. Because of the pandemic, he was obliged to move his classes online. There are so many mainland Chamorros—including myself—who don't know the language. (And very few on Guam know it well; I read somewhere that at the current rate of decline, the Chamorro language will be extinct in 50 years.) So of course, once word got out about his online classes, interest spread literally worldwide. His current beginner class has several hundred people in it!
What's your go-to productivity trick?
Talking to myself. It helps me focus.
What's one professional skill you're currently working on?
Trying to figure out how to increase the digital accessibility of our collections.
Tell us a fun fact about you.
My first job was as a carnival barker.
What is on your reading list?
"Language Matters" by Sharon Clampitt-Dunlap (shoutout to my former colleague Marisol Ramos for purchasing this book for our collection), "Where Are All the Librarians of Color?" and whatever leisure reading books friends exchange with me. Right now, I have a James Patterson, a Vince Flynn, and two Steve Berrys sitting on my shelf.
Everyone loves UConn for their own reasons. What is yours?
The breadth of expertise available to me in the form of colleagues and students across the University. No matter my question, I have an expert whose brain I can pick.
If you could only have three apps on your smartphone, which would you pick?
Google Maps, a calendar app, and Weather Channel.
What's your most hated household chore?
Dusting . . . or laundry . . . or mopping . . . or maybe vacuuming.
What's your most used emoji?
The heart emoji for my kids, the smiley face for everyone else.