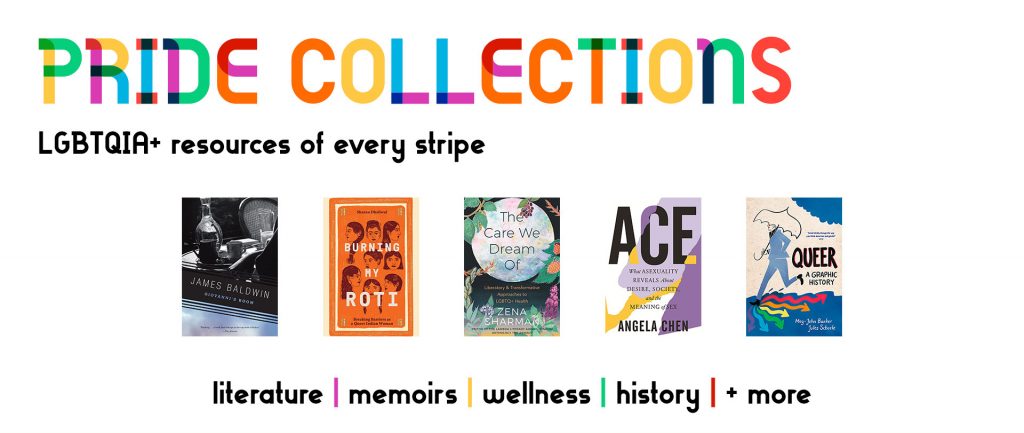 Lesbian, Gay, Bisexual, Transgender and Queer (LGBTQ) Pride Month is celebrated each year in the month of June to honor the 1969 Stonewall Uprising in Manhattan. The Stonewall Uprising began at the Stonewall Inn, a bar located in New York City's Greenwich Village, when patrons and neighborhood residents fought back against a violent police raid on the gay club in the early morning hours. The crowd's fierce resistance against law enforcement quickly grew into an uprising that lasted six days and signaled the arrival of a militant and confrontational movement for the liberation of LGBTQ+ people.
The UConn Library has several great resources and activities to help you learn more of the history, challenges, and victories around LGBTQ+ issues in celebration of Pride Month.
Archives & Special Collections
Connecticut has deep roots in the movement, including here at UConn which can be found in several archival collections.
Foster Gunnison, Jr. Papers. In the early 1960s, Foster Gunnison, Jr., who had arrived in Hartford, Connecticut, to pursue a master's degree at Trinity College, immersed himself in the homophile movement by working with local organizations and founding his own, the Institute for Social Ethics (ISE). A collection of his materials includes correspondences, organizational records, posters, fliers, buttons, newspaper clippings, and photographs relating to LGBTQ+ activism in the 1960s and 1970s.
Finding Aid
Digitized Materials
The UConn Gay Alliance was founded in 1967 and had their own Stonewall moment in 1971-72 when one of their dances was met by an angry crowd. There are several collections that are available for researchers interested in learning more about the movement here at UConn including:
University of Connecticut, President's Office Records most notably presidents Homer D. Babbidge (1962–1972) and John A. DiBiaggio (1979-1985). Both contain material relating to LGBTQ+ issues on campus, such as the emergence and activities of the gay liberation movement in the early 1970s.
Alternative Press Collection (APC) includes national and international publications, ephemera, and artifacts documenting activists and organizations from the 1800s to present as well as LGBTQ+ organizing at UConn. Especially notable are materials from the Storrs Gay Coalition and the UConn Gay Alliance. The APC can best be consulted using the card catalog available in the archives, though some digitized materials can be accessed here.
Daniel R. Campbell Papers. Daniel R. Campbell attended UConn in 1967-1968 and was one of the first openly gay students on campus. The collection describes Campbell's experiences at UConn and elsewhere, and offers insight and perspective on pre-Stonewall LGBTQ+ culture on campus.
UConn Rainbow Center Records. Founded in 1999, the Center is dedicated to supporting the needs of the LGBTQIA+ members of the campus community. The collection documents the center's history and activities up to the present day.
Don't stop there! There are a wide variety of books of poetry, and children's literature from the Northeast Children's Literature Collection, and several more great resources for research in Archives & Special Collections, with thanks to Shaine Scarminach for the compilation.
Wellness Collection
LBGTQIA Wellness titles includes books, many available electronically, related to Lesbian, Gay, Bisexual, Transgender, Queer, Intersex, and Asexual communities' wellbeing, and identities. The LGBTQIA Community Wellness Guide features selected memoirs, advice, and other books by authors for the LQBTQIA + (Lesbian, Gay, Bisexual, Transgender, Queer, Intersex, and Asexual) community which relate to mental health or wellness.
UConn Health Library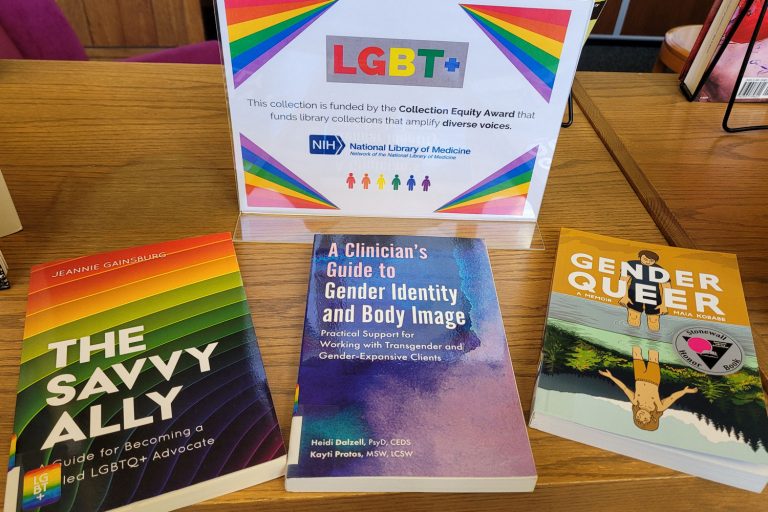 With the assistance of a Collection Equity Award from the National Library of Medicine, a new collection of LGBTQIA+ materials is available at the Health Library which was recently highlighted in UConn Today.

Databases
LGBT Magazine Archive. Articles from journals covering LGBT interests from 1954-2015.
Independent Voices. Alternative press publications produced by feminists, dissident GIs, campus radicals and the New Left, Native peoples, antiwar activists, Black Power advocates, Latino/as, LGBT activists, right-wing extremists, and more.
LGBT Thought and Culture. Influential books, periodicals, letters, speeches, interviews, and ephemera covering LGBTQIA political and social movements in the 1900s and 2000s.more.
LGBT Life. Covers gay, lesbian, bisexual, and transgender issues including civil liberties, culture, employment, family, history, psychology, and religion.
Archives of Sexuality & Gender: LGBTQ History and Culture Since 1940. Articles, manuscripts, images, and correspondence on social, political, health, and legal issues impacting LGBTQ communities globally; sex and sexuality; and related issues.
Libguide
Gender & Sexual Minorities (LGBTQIA) Studies Subject Guide provides tips and resources for locating books, films, journal articles, news sources, and websites for lesbian, gay, bisexual, transgender, queer, intersex, and asexual, and other gender and sexual minorities studies.
Exhibits
If you happen to be on campus – we have displays of published materials in the Homer Babbidge, Avery Point, and UConn Health libraries.