This spring the art exhibits at Homer Babbidge Library feature William Shakespeare and his influence in performance, language, scholarship and pop culture at UConn and the artistry that results when microscopic objects are magnified a billion times and photographed. The exhibits run through June 15. An opening reception will take place on Thursday, April 2, from 4-6 p.m.
In "The Play's the Thing: Shakespeare at UConn," Connecticut Repertory Theatre's (CRT) Managing Director Matthew Pugliese and Assistant Professor in the Department of Dramatic Arts Lindsay Cummings show the creative work of the students and artists of the Department of Dramatic Arts and Connecticut Repertory Theatre. The scholarship of professors from English to Digital Media, highlights the many academic, social, and cultural ways we interact with Shakespeare on campus and in our lives. The University's roots as an agricultural institution are also featured, focusing on herbs and their symbology in Shakespeare's work.
Last year, UConn was invited to join the Folger Institute's Consortium. The Folger Institute is a center for advanced study and collections-focused research in the humanities at the Folger Shakespeare Library in Washington, D.C.
The CRT will present Shakespeare's most popular comedy "A Midsummer Night's Dream," from April 23 through May 3 in the Harriet S. Jorgensen Theatre.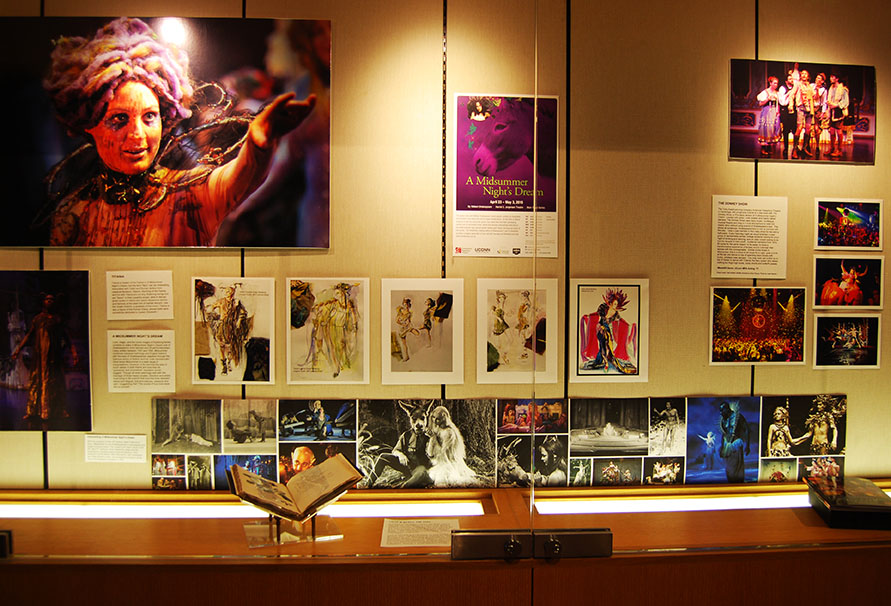 Art in Nanochemistry
Using high power electron or optical microscopes, Professor Challa Vijaya Kumar, head of UConn's Divisions of Physical and Biological Chemistry, and his Ph.D. students capture the natural world on the nano-level, creating awe inspiring images of natural materials that are as majestic as the Grand Canyon or Niagara Falls.
This "Art in Nanochemistry" exhibit is a collection of electron micrographs of nanomaterials from Dr. Kumar's research group, created with support from the National Science Foundation, works of his colleagues at UConn, and also from the Materials Research Society Art-in-Chemistry annual competitions. Dr. Kumar and his group are investigating how these protein-DNA nanomaterials they create in the lab can be applied in enzyme fuel cells, DNA-solar cells, and neuroprosthesis for spinal cord repair.