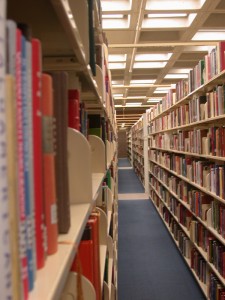 We are pleased to announce that the UConn Libraries will be a retention partner in the Boston Library Consortium's Eastern Academic Scholars' Trust (EAST) initiative. EAST is a major shared print initiative that includes 46 other member libraries across New England, New York and Pennsylvania. The idea is rather simple yet revolutionary – to ensure access to print items, such as books, journals and serials without every institution needing to have them in their libraries.
The collaborative nature of libraries runs deep. The second law of library science introduced in 1931 by Dr. Ranganathan suggests that every member of the community should be able to obtain the material they need. Since every library is unable to own everything, this "law" is the premise behind why libraries already actively engage in services such as interlibrary loan, expanding access to electronic resources and are at the forefront of expanding the use of open educational resources. What is revolutionary about this initiative is the large scale effort to manage the materials collectively.
When you add into the conversation the need for libraries, particularly those in an academic setting, to continue to adapt to changing landscapes in the way we research, teach and learn, we are seeing a strain on the balance between physical print collections and spaces that are high in demand. A shared stewardship of print materials among members of EAST will alleviate some of that pressure for space without compromising the need for preservation and access to scholarly works.
We have been actively involved in this project which will begin with a collection analysis at each library, the development of a system to determine what the resources are that will be shared, decisions on who will retain them in their libraries and how we share them most efficiently and effectively. From our perspective, not only will this allow us to continue in our goals to collaborate at a regional level, but to also help us to get a full picture of the materials in our print collection. The timing couldn't be better as we will also be able to utilize this information as part of the framework for a master plan for the Homer Babbidge Library, a project we are also embarking on this summer.
The EAST project is being generously funded through the Andrew W. Mellon Foundation and the Davis Educational Foundation. The Mellon funding is to support the development of the sharing network and the Davis Foundation is funding the collection analysis which is estimated at over 20 million volumes.
We look forward to being a part of this project as it moves forward over the next two years. We will be represented by Patrick Carr, Associate University Librarian for Collections & Discovery so if you have any questions please feel free to contact him. For a more detailed look at the project, please see the BLC Website.