During the pandemic, the UConn Library took advantage of the HathiTrust Emergency Temporary Access Service (ETAS) program, providing electronic access to half-a-million print books from our collections. As we work toward fully reopening our facilities for the fall semester, emergency online access to HathiTrust materials will cease on August 13.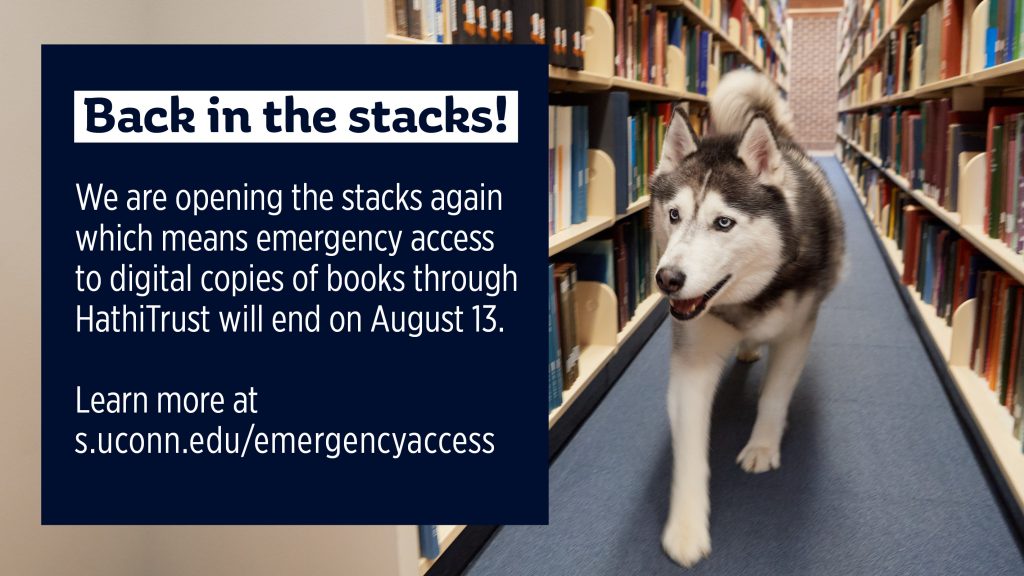 To comply with US copyright law, HathiTrust deactivates emergency access for libraries that have resumed more normal operations. The deactivation affects only copyrighted materials that were made temporarily available through HathiTrust. Out-of-copyright, public domain materials will always be fully accessible through HathiTrust.
"We appreciate the additional access provided through our membership in HathiTrust as the UConn community navigated incredibly challenging times," said Michael Rodriguez, Collections Strategist. "HathiTrust was an integral part of our efforts to provide as many online resources as possible to support socially distanced research and learning."
We have reviewed the HathiTrust ETAS items accessed since April 2020, and whenever possible, have purchased permanent online access to the most-used titles.
Access to the stacks will begin on August 16th in Homer Babbidge Library on the Storrs campus during our two-week soft opening period. All other campus libraries will open at the start of the semester on August 30th.
Founded in 2008, HathiTrust is a not-for-profit collaborative of academic and research libraries preserving 17+ million digitized items. HathiTrust offers reading access to the fullest extent allowable by U.S. copyright law, computational access to the entire corpus for scholarly research, and other emerging services based on the combined collection. HathiTrust members steward the collection — the largest set of digitized books managed by academic and research libraries — under the aims of scholarly, not corporate, interests.