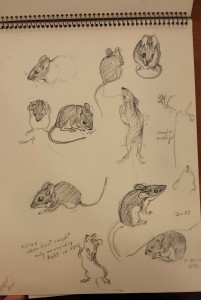 On the first page of her sketch pad, Margaret Waring Buck provides a simple explanation for the drawings that follow, "Caught wild mouse in clothes hamper in upstairs bedroom closet. Sketched it then let it go." The ensuing series of sketches picture the mouse in a variety of moods and positions – cleaning itself, climbing the sides of the hamper, and avoiding daylight, which appeared a minor annoyance. "Active when first caught," Buck observes, "Only annoyed by light in eyes."
Born in New York City in 1905, Buck was a graduate of the Art Students League in New York, an art school that has been continuously operating since 1875. A resident of Mystic, CT, until her death in 1997, she wrote and illustrated books about nature for children and published the bulk of her work during the 1950s through the late 1970s.
Included in the Margaret Waring Buck Papers, housed in Archives & Special Collections, are many nature sketches like the ones of the mouse, which Buck drew from observation. When I first began looking through Buck's published work I assumed that as a naturalist she drew at least some of her illustrations of animals from real life. Her sketches, however, shed light on just how closely Buck's encounters with nature informed her work. Accompanying the mouse sketches are drawings of two baby opossums that visited Buck's back porch over the course of several months. Another beautiful series of watercolor sketches feature a detailed day-by-day description of a caterpillar, caught and kept by Buck in a plastic terrarium, transforming into a butterfly. Such intimate encounters were a routine part of life for someone who was naturally curious about the intricacies of life in the natural world.
Buck sketched the mouse in December 1966. While most of the sketches are unaccompanied by notes, some include observations on the mouse's behavior and appearance. Below a drawing that emphasizes the mouse's long, tail, doe eyes, and whiskers, she notes, "Tail white under, whiskers long, used as antennae."
More mouse sketches, drawn over the course of the next two months indicate that the mouse – or one of his friends – became a repeat visitor to the hamper. Buck included the precise date and time of her encounters with animals next to her drawings of them. The following timeline offers some insight into her ongoing interest in the mouse: "Jan 23 – got out; Jan 31 – caught again – in collar[?] in hamper" and then finally, "Jan 31 – Goodbye, off to woods."
Of course, this was not her last run-in with mice. A post-script, written two years later, indicates that Buck's clothes hamper remained a popular temporary home for the small creatures during the winter seasons. She continued using these encounters as opportunities to sketch and observe them.
Rebecca D'Angelo is a senior undergraduate student in History and Anthropology. She is a writing intern and student curator in Archives and Special Collections at the Dodd Research Center, University of Connecticut.