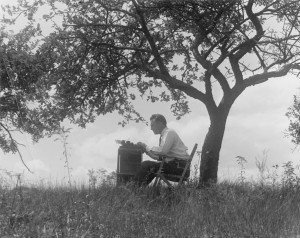 Scholars and graduate students whose research requires use of the collections held in Archives and Special Collections at the Thomas J. Dodd Research Center are invited to apply for travel grants.  Applications must be received by June 30, 2014 for travel to the University of Connecticut between September 2014 and February 2015.  Grants up to $500 are awarded to graduate students and post-doctoral students, and established scholars are eligible for awards of up to $1,500.  Grants are awarded on a competitive basis to cover travel and accommodations expenses.  Details and application instructions can be found on the Strochlitz Travel Grant website.
Criteria for selection include the scope and significance of the individual's research project relative to the subject strengths of the repository collections, his or her scholarly research credentials, and letters of support.  Applications from individuals whose research relates to the following fields of inquiry are strongly encouraged: Alternative and Underground Press in America, American Literature and Poetics, American Political History, Blues and African American Vernacular Music, Latin American and Caribbean Culture and History, Human Rights, Labor History, Public Polling History, and Connecticut and Railroad History, among others.
Contact Greg Colati, Director, with any questions.