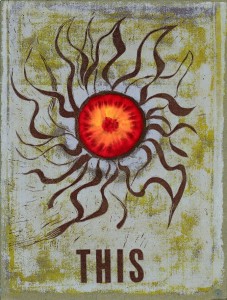 The teachers and students at Black Mountain College came to North Carolina's Blue Ridge Mountains from around the United States and the world.  Some stayed for years, others mere weeks. …They experimented with new ways of teaching and learning; they encouraged discussion and free inquiry; they felt that form in art had meaning; they were committed to the rigor of the studio and the laboratory; … They had faith in learning through experience and doing; they trusted in the new while remaining committed to ideas from the past; and they valued the idiosyncratic nature of the individual. But most of all, they believed in art, in its ability to expand one's internal horizons, and in art as a way of living and being in the world.
Leap Before You Look: Black Mountain College 1933–1957 is the first comprehensive museum exhibition on the subject of Black Mountain College to take place in the United States. Featuring works by more than ninety artists, from painting and sculpture to photography and ceramics, the exhibition will be accompanied by a robust program of music, dance, performance, lectures, and educational programs. The exhibition had its premiere on Saturday at the ICA/Boston and will be on view from October 10, 2015 to January 24, 2016.
Archives and Special Collections is thrilled to be a part of the exhibition, where items from the literary collections are on display together with works loaned from archives and museums throughout the United States and Europe. Items on loan from Archives and Special Collections include a painting by poet and artist Fielding Dawson titled "Cy Twombly."  Dawson, whose papers reside here in the archives, was a student at Black Mountain College in the early 1950s along with fellow students Cy Twombly, Robert Rauschenberg, and Dan Rice.  Rare documents, manuscripts and "This" (pictured) a poetry broadside by Charles Olson printed at Black Mountain College are also on view in the exhibition. Charles Olson's archive of manuscripts, letters, diaries, photographs and books resides here at the Dodd Research Center. A rich document of the poet's life and work, the archive includes a variety of materials from his time at Black Mountain College where he began teaching in 1948 and assumed the role of rector (formally) in 1954. Olson's poetics were very much influenced by the artists, faculty, students and atmosphere of experimentation that he encountered at Black Mountain College, and that in turn influenced a generation of writers that were later associated with, according to the New American Poetry editor Donald Allen, the "Black Mountain School."
Organized by Helen Molesworth, the ICA's former Barbara Lee Chief Curator, with ICA Assistant Curator Ruth Erickson, the exhibition argues that Black Mountain College was an important historical precedent, prompting renewed, critical attention to relationships between art, democracy, and globalism.  The college's influence, and its critical role in shaping many major concepts, movements, and forms in postwar art and education, can still be seen and felt today.