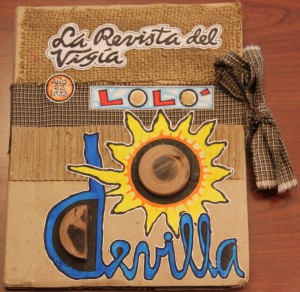 Archives and Special Collections is excited to announce its preliminary schedule of programs and events for Spring 2016.  In the months and weeks ahead, handmade books, photographs, and rarely-displayed visual materials highlighting artists and artwork found in Archives and Special Collections will be featured in a series of exhibitions in the Thomas J. Dodd Research Center and Homer Babbidge Library.  Below is a list of exhibitions and events coming your way.  All are free and open to the public.
Flight by Force or Free Will (exhibition)
On view: 1 January – 26 February, 2016
Gallery: Thomas J. Dodd Research Center Gallery, UConn
Curator: Graham Stinnett, Archivist for Human Rights and Alternative Press Collections
Migration has occurred throughout human history.  The fluctuations of population from one geographic location to the next has occurred in times of tragedy, opportunity and emergency; by flight, by force and free will.  This exhibition highlights selections from Archives & Special Collections about expressions of displacement, forced migration, coercive settlement, asylum under the state and the globalization of refuge-seeking.  Prints, illustrations, pamphlets, artists books, multimedia, and photographs from the Human Rights Internet Collection, Mia Farrow Collection, University of Connecticut Films Collection, International Rescue Committee, (Central America) Records, Eric Reeves Papers, and Artist's Book Collection, are represented.
"Of Mice and Men: Emerging Infectious Disease in a Warmer, More Fragmented World" (Lecture, Teale Lecture Series)
Date: 4 February 2016, 4:00 PM
Location: Konover Auditorium, Thomas J. Dodd Research Center, UConn
Speaker: Rick Ostfeld, Senior Scientist, Cary Institute of Ecosystem Studies, Millbrook, New York
Exhibition prepared by Guest Curator Elizabeth Barbeau (title forthcoming)
On view: 7 March – 13 May 2016
Gallery: Thomas J. Dodd Research Center Gallery, UConn
Cyborgology: Female Automata and Science Fiction (tent. title) (exhibition)
On view: 1 March – 29 April 2016
Gallery: John P. McDonald Reading Room, Archives and Special Collections, Thomas J. Dodd Research Center, UConn
Curator: Giorgina Paiella
"Comedy, Economics, and Climate Change" (Lecture, Teale Lecture Series)
Date: 3 March 2016
Location: Konover Auditorium, Thomas J. Dodd Research Center
Speaker: Yoram Bauman, Author, "standupeconomist," and carbon tax activist
Cuban Bricolage: The Artists' Books of Ediciones Vigía /
Bricolaje Cubano: Los libros artesanales de Ediciones Vígia (exhibition)
On view: 21 March – 21 May 2016
Gallery: Homer Babbidge Library, UConn
Curator: Marisol Ramos, Librarian for Latin American and Caribbean Studies, Latino Studies, Spanish, and Anthropology