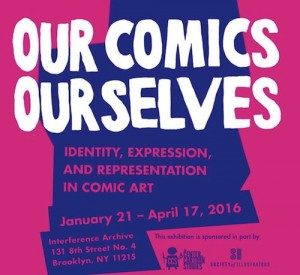 This week Graham Stinnett, Archivist for Human Rights and Alternative Press Collections, will be featured as a Guest Curator and blogger on the Interference Archive's Curated Tumblr site for the exhibition Our Comics, Ourselves: Identity, Expression, and Representation in Comic Art.  For the duration of the exhibition — on view now through April 17 at 131 8th Street, No. 4, in Brooklyn, New York — guests will curate selections of comic works on a weekly basis and post to the blog. Each curator selects works contained within their personal comics collections — identity-based works that either ignited their curiosity in the medium, inspired them, angered them, or at least motivated them enough to want to start making or writing about comics.  
The exhibition presents the graphic stories that describe the complexity and diversity of our collective experience, and examines the social and historical contexts within which they emerged. Through comics we are not only able to recognize ourselves and our own experiences, but also the experiences of others. We can deepen our understanding of the world around us by reading these stories and engaging with their intricacies.
Organized by Jan Descartes, Ethan Heitner, and Monica McKelvey Johnson, Our Comics, Ourselves includes comic books, graphic novels, DIY comics, and various comics paraphernalia primarily from the United States, 1945 to present. The works range from autobiographical to sheer fantasy, and explore feminism, abortion, racism, cultural identity, social activism, labor unions, veterans of war, sexual abuse, student debt, immigration, public health, civil rights, gender and sexual identity, and a lot more.
An all-volunteer organization, the Interference Archive is both a collecting archive and a public programming center based in Brooklyn, New York.  It's mission is to explore the relationship between cultural production and social movements. "This work manifests in an open stacks archival collection, publications, a study center, and public programs including as exhibitions, workshops, talks, and screenings, all of which encourage critical and creative engagement with the rich history of social movements," according to their website.  The archive contains objects that are created as part of social movements by the participants themselves: posters, flyers, publications, photographs, books, T-shirts and buttons, moving images, audio recordings, and other materials.