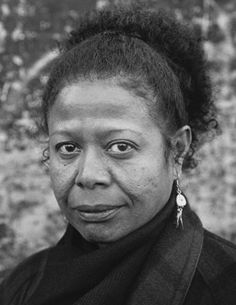 Guest blog post by Marc Reyes, doctoral student at the University of Connecticut and 2016 Summer Graduate Intern in Archives and Special Collections.
If you think poetry recitals are dull, then you haven't heard Jayne Cortez read her work.  Her poem, "Dinah's Back in Town" (dedicated to blues singer Dinah Washington), begins:
"You know, I want to be bitchy.  I said I want to be a bitch.  Cause when you're nice, true love don't come into your life.  You get mistreated, mistreated and abused by some no good man who don't care nothing about no blues."
After declaring that "…true love don't come into your life," the audience laughed and hooted their approval of the sentiment.  The rest of Cortez's tribute to Dinah Washington cautioned about the promises fast-talking men make to women.  And if women struggled to find the courage to stop shady men in their tracks, they only need to look to the titular heroine for inspiration.  Cortez described Washington as an assertive, tough-as-nails woman with no patience for schemers and scoundrels.  And when a bad man comes around, just tell him, "Dinah's back in town."
Cortez read this and several others poems on May 12, 1972.  This 1972 performance was the first of a dozen individual visits she made to the University of Connecticut.  Her twelve trips to Storrs were all for the same reason: she was invited to speak to the undergraduates enrolled in the School of Fine Arts course, Black Experience in the Arts.   The class, which operated under this title for over two decades, heard directly from a variety of talented musicians, actors, dancers, singers, artists, and writers.  Cortez was an ideal candidate to speak to UConn students.  Her acclaimed poetry and spoken word performances, often with musical accompaniment, made her a leading figure in the Black Arts Movement of the late 1960s and early 1970s.  Besides her considerable talents as a writer, Cortez was also a teacher, a publisher, founder of Los Angeles' Watts Repertory Theater Company, and an activist who dedicated her adult life to ending racial and gender discrimination in American society.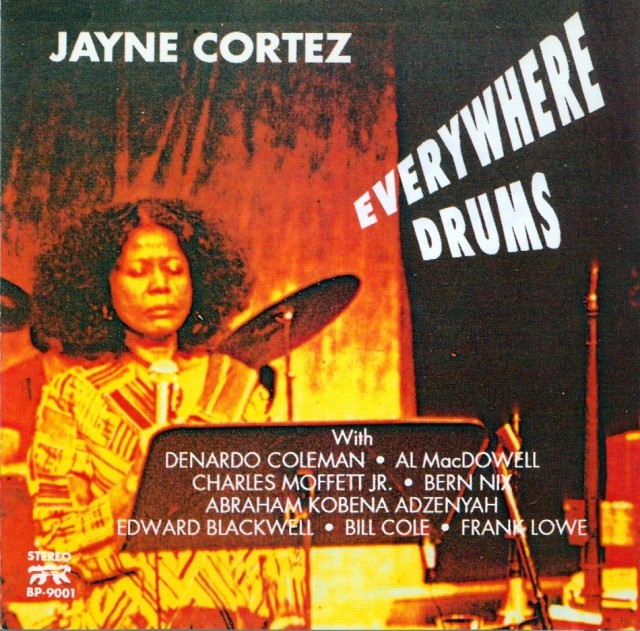 When Cortez spoke in the spring of 1972, she read selections from her 1971 poetry collection, Festivals and Funerals.  The delivered poems touched on ideas about loneliness, anger, and love.  Others addressed how black Americans adjusted to living in northern cities compared to life in the rural South.  Another, "Watching a Parade in Harlem," described the frenzy generated by a local Harlem parade and compared the appearance of many New York City policemen to a colonizing force.  Her tribute to Dinah Washington was not the only work that addressed struggles women encounter.  Her composition, "I Am a Worker," was dedicated to "all my sisters in the garment industry."  The women depicted in this poem are garment workers who toil under harsh conditions for low pay.  Her words make vivid the swollen legs, stiff hands, and back-breaking labor these women undertake in pursuit of "survival money."  After listing the many bills and fees that make "survival money" less a reality and more a dream, the narrator asks, "Do you think a revolution is what I need?"
Cortez continued speaking to the Black Experience in the Arts course over the next twelve years, her visits becoming almost an annual occurrence.  Her lectures did not recycle content or repeat poems because she was producing so much new and original work. Between the years of 1972 to 1984, Cortez released four books of poetry, five spoken word recordings, and founded the publishing company, Bola Press.  But there was more to Jayne Cortez than her work and in a February 1984 lecture, she discussed more personal matters including her childhood, her first battles against racial injustice, and her decision to became a writer.
In this lecture, students learned about Cortez's birth in Arizona and growing up in postwar Los Angeles.  She recounted how she studied to be an actress and then a director, but found writing to be her true calling.  While studying art, music, and drama in high school and college, Cortez became involved in the civil rights movement.  In the early 1960s, she spent two summers working for the Student Nonviolent Coordinating Committee (SNCC), registering black voters in Mississippi.  She told students that this edifying work inspired her to produce art, infused with integrity, which mixed "political language with the poetic."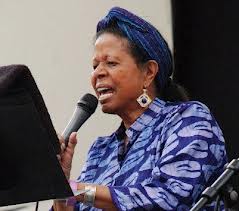 After explaining how her writing career started, Cortez informed students about the opportunities a writing career can produce.  Because of her success, she received invitations to speak at international poetry festivals throughout Europe and Africa.  She described the artistic affirmation experienced by performing at Carnegie Hall or having her books reviewed in The New York Times or The Washington Post.  Lastly, Cortez concluded her presentation by bringing to the stage her band, the Firespitters, who provided musical accompaniment to her poetry.  Cortez's use of music to emphasize her work was not a gimmick; Cortez and the Firespitters played together for over three decades and released thirteen albums.  By incorporating music into the reading of her poetry, Cortez became a pioneer in the field of poetic performance art.
This summer, additional Jayne Cortez lectures debuted on the Archives and Special Collections digital repository.  Now, six of Cortez's twelve Black Experience in the Arts lectures can be easily accessed online with plans to digitize the rest.  In addition, Archives and Special Collections possesses physical copies of Cortez's work in book and audio form.  For scholars interested in poets like Jayne Cortez or the broader Black Arts movement, Archives and Special Collections has many resources available to researchers.  Stay tuned as we continue to make these valuable materials more widely known and available as well as additional blog posts highlighting other prominent lecturers who visited the university and spoke to Black Experience in the Arts students.
Marc Reyes is a doctoral student in the Department of History at the University of Connecticut.  He received his B.A. in History from the University of Missouri and his M.A., also in History, from the University of Missouri-Kansas City. His research investigates the United States and its interactions – diplomatically, economically, and culturally – with India.  As a 2016 graduate intern, Marc is excited to gain additional experience working in a university archive and will be exploring the history of the Black Experience in the Arts course here at UConn as well as the broader movement of 20th century black expression in the arts.