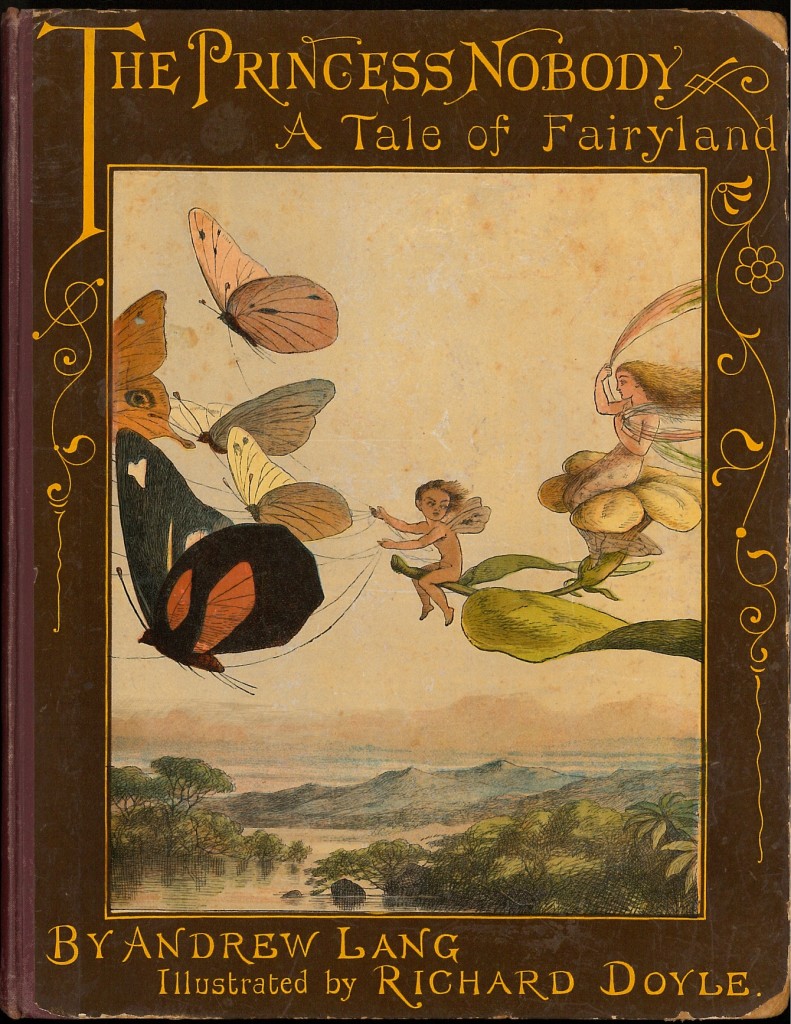 Archives and Special Collections at the University of Connecticut Libraries has acquired a major collection of illustrated children's books by prominent Victorian authors from Melissa Dabakis, Professor of Art History at Kenyon College, Mt. Vernon, Ohio and wife of the late Daniel P. Younger.  For thirty-five years, Daniel Younger collected rare nineteenth and early twentieth-century children's illustrated books.  Hand-selected by Younger for donation to the Northeast Children's Literature Collection, this generous gift includes one-hundred and forty-four illustrated books for children published between 1841 and 1935.  Included in the gift are works by authors such as Lewis Carroll, Charles Kingsley, Edward Lear, Christina Rossetti, John Ruskin, and Robert Louis Stevenson.
Many of the works selected by Younger for the gift represent the origins of the fairy tale in children's literature.  The early period of children's literature that was characterized by stories intended to teach morality, gave way to the magic of fairy tales designed to provide an alternative to ordinary life.  This shift in story-telling was also accompanied by improvements in the quality of illustration in children's books.  Books by the illustrator George Cruikshank, who worked in copperplate etching, and Richard Doyle, founder of Punch, are examples of the detailed, imaginative style developed during the Victorian period. The collection includes George Cruikshank's Fairy Library, 1865 and The Princess Nobody: a tale of fairy land, illustrated by Richard Doyle, 1884.  The donation includes an American edition of [Hans Christian] Andersen's Tales for Children published in 1861.  In 2001, Younger, who served as Director of Olin Art Gallery at Kenyon College, featured many of the works in the collection in an exhibition Once Upon A Time: Victorian Illustrated Children's Books dedicated to the memory of puppeteer and children's book collector Herbert Hosmer..
In August 2015, Younger contacted Kristin Eshelman, archivist for the Northeast Children's Literature Collection, "looking for a good home" for a collection of one hundred and fifty titles. The works, Eshelman discovered later, were hand-selected by Younger especially for Archives and Special Collections at UConn.  "Dan wanted to know why we didn't have these important illustrated children's books in our collection," said Eshelman.   The history of the children's literature collection at UConn goes back to 1965, when then Director of Special Collections Richard Schimmelpfeng began collecting works from the period 1860 to 1900, a period that had been overlooked by other regional collections.  Illustrated material was also of particular interest. The establishment of the NCLC in 1983 shifted the emphasis to the archives of twentieth-century artists and writers working and residing in the Northeast and East coast.  Younger saw a way to fill the gap created by this shift in collecting focus through his gift of illustrated children's books by prominent Victorian authors.
Younger's interest in children's literature and connection to UConn dates back to a 1979 graduate internship at the American Antiquarian Society in Worcester, Massachusetts.  It was there that he met the puppeteer and collector of children's books and toys, Herbert Hosmer.  Hosmer knew Francelia Butler, who taught children's literature at UConn. Younger noted, "Butler was an informal board member of Hosmer's all-things-juvenile enterprise, as was I."  Younger was also mentored by William E. (Bill) Parker, UConn Emeritus Professor of Art in the history of photography during his graduate studies in photography and photographic history.  Younger's wife, Melissa Dabakis, is also an alumna of UConn.
Kristin Eshelman, Archivist