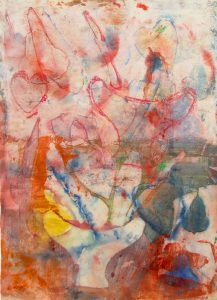 Roger L. Crossgrove: A LIfe in Art 
Three concurrent exhibitions on display now through August 4, 2017 at UConn.
Until his passing in December of 2016, Roger L. Crossgrove was a highly visible and active participant in Connecticut's arts community. The works on display in the Homer Babbidge Library, the Thomas J. Dodd Research Center Gallery, and McDonald Reading Room in Archives and Special Collections through August 4, 2017 are representative of his artistic life expressed in various media.
Born in Farnam, Nebraska in 1921 and raised on the family's farm, Crossgrove's mother, a self-taught artist, encouraged his interest in art at a young age. From 1942 to 1946, Crossgrove served in the US Army as a Staff Sergeant, 73rd Field Hospital in the Philippines. After returning home, he received his BFA from the University of Nebraska in 1949 and his MFA in 1951 from the University of Illinois at Champaign-Urbana.
Crossgrove fell in love with the art of Mexico and twice had the opportunity to live and paint there, first in 1950 on the GI Bill and again in 1965, the influence of which is evident in the early oil paintings on display in the Plaza Gallery in Homer Babbidge Library. Between 1950 and 1968, Crossgrove taught at the prestigious Pratt Institute in the Department of Graphic Art and Illustration. In 1968, he was recruited by the University of Connecticut to serve as Department Head in the School of Fine Arts. Crossgrove retired from the University of Connecticut in 1988. During his collective 38 years as an art professor, Crossgrove taught noted artists such as Tomie dePaola, Robert Mapplethorpe, Joseph A. Smith, Normand Chartier, Cyndy Szekeres, and Michael Maslin. Described as patient, supportive, firm, friendly, generous, and cheerful, he is remembered for emphasizing well-rounded foundational lessons, in a wide variety of idioms, as crucial preparation for a career in fine art or illustration. In 2008, Crossgrove was the recipient of the UConn School of Fine Arts Lifetime Achievement Award.  Read more…