The Fall semester of 1969 was a time of frequent protests on campuses across the country, and the students of the University of Connecticut were ready participants and initiators of protests expressing outrage at the Vietnam War, recruiting on campus by the U.S. military and by manufacturers of weapons of war, and of racism in society. A racial incident that occurred on October 9, 1969, brought violence to campus and a resulting protest by the students.
The incident was written about in Red Brick in the Land of Steady Habits: Creating the University of Connecticut, 1881-2006, by UConn History Professor Bruce Stave:
"On Thursday, October 9, an estimated fifty to sixty black students damaged lounges and rooms in the Delta Chi fraternity house and Lancaster House. They overturned couches, broke windows, and smashed mirrors. Paint was thrown into some of the rooms at Delta Chi. That incident, which lasted no more than five minutes, stemmed from a confrontation between blacks and whites from the previous night. Lew Curtiss, one of the black students, suggested that the disturbance represented an example of "collective defense" – blacks had to be concerned with the protection of black people. The fracas at Lancaster House resulted from insults leveled at a group of black women from the fourth floor. The protesters went directly there, smashing along the way the staircase, doorway, and lounge windows; upstairs windows were also broken, beds knocked down, and a bureau smashed. Three residents received minor cuts on their hands and faces when they met the protesters at the front door. After the incident, however, Lancaster residents issued a statement taking blame for initiating the confrontation and expressing the hope that others would learn from the situation and work to solve the racial problem rationally.
The next morning three hundred white freshmen marched quietly in single file to Gulley Hall to "express…deep concern over the failure of the University of Connecticut community to take substantive steps toward ending the racial turmoil and injustice within our community and the desire that remedies be found. Provost Gant, who had been serving as acting president during Homer Babbidge's sabbatical (during the 1969 Fall semester), called on all to embrace with conviction the spirit of the statement and promised to distribute it throughout campus. Babbidge returned to spend the day of October 10 in conferences with students and faculty to ascertain just what had happened – and to discuss its root cause. He said he could not and would not condone property damage but emphasized, "I must assert that we cannot and will not condone d damage to person by racial insult, for whatever reason." The insult was the more truly violent act, the more threatening to public safety, the least comprehensible. The president then announced that he had asked the chairman of the board of trustees to call a special meeting for Sunday, October 12. After meeting in executive session, the board endorsed Babbidge's statement and called on him to give highest priority to remedying the cause of racial tension on campus."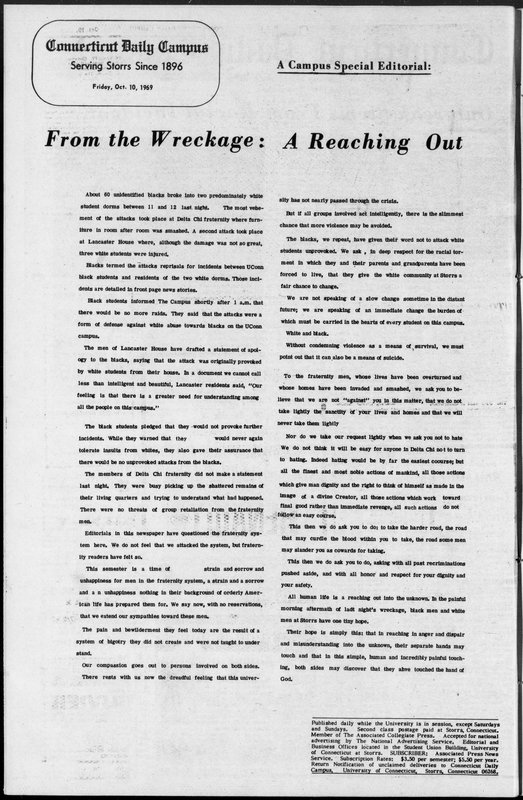 These photographs of the October 9, 1969, silent protest were taken by Connecticut Daily Campus photographer Howard Goldbaum and can be found in our digital repository beginning here:
https://collections.ctdigitalarchive.org/islandora/search/%22north%20campus%20against%20racism%22?type=edismax&cp=20002%3AUniversityofConnecticut