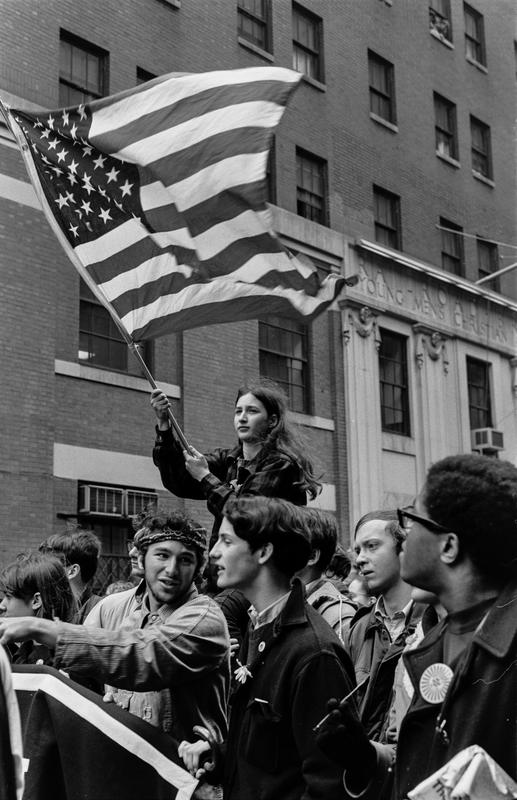 In the Spring semester of 2020, an exciting use of historical photographs by UConn Digital Media and Design students brought to life the images of student protest in the 1960s and 1970s held by the University of Connecticut Archives.  In collaboration with Assistant Professor Anna Lindemann and MFA graduate Instructor Jasmine Rajavadee of the Digital Media and Design Department, the Motion Graphics 1 class (DMD 2200) spent a portion of their semester in the archives to understand the context of photographic collections and practice their skills on digital collection items. This exploration led to the creation of new uses for the recorded past.  The class assignment drew on digitized 35mm negatives, Kodachrome color slides, and black&white photographic prints to demonstrate a 4D animation process of still images to bring static subjects to life.  Collections utilized for this project ranged from the Cal Robertson Collection of anti-nuclear demonstrations in New London, Howard S. Goldbaum's Photography for the Daily Campus newspaper documenting anti-Vietnam War demonstrations in Storrs, New York, and Washington D.C., and University of Connecticut Photography Collection images of the 1974 Black Student sit-in at Wilbur Cross Library. To view a selection of the Student Unrest Photography in 4D project, follow this link to our Youtube page.      
This project was a timely and innovative use of a subject matter that was re-energized through Storrs campus demonstrations around racism, global climate change and mental health advocacy throughout the 2019-2020 academic year.  In addition, UConn Archives exhibitions Day-Glo & Napalm: UConn from 1967-1971 on student life and activism of the Vietnam War Era and UConn Through the Viewfinder: Connecticut Daily Campus Photographs from the Howard Goldbaum Collection at the William Benton Museum of Art reminded the community of it's involvement during times of national change.  
This is the second time that the UConn Archives has worked with Prof. Lindemann and the DMD department to utilize photographic collections for class projects, the first drew on child labor images from the U. Roberto Romano Collection which can be viewed here.