Wow! A lot has happened since our last post.  We would like to tell you it has been all been good, but when someone likens it to an episode of "This Old House", you know you are in a bit of trouble.
There are currently three main areas in which work is being done.
Bookworms Cafe. Furniture is being moved in today and the Bookworms staff are working to get things in order.  They have found a need to upgrade their electrical  and re-install some plumbing which they anticipate will be done for a Tuesday opening. WooHoo!  Check out the new floor….
3rd floor carpeting. There has been some delays in getting to the floor, and the same glue that is used to make sure the carpeting sticks, is the same glue that is very difficult to get up.  For both of those reasons we are behind schedule on the floor, and will need to extend the closure of the floor through Monday, June 24th.  On that Monday it is likely that we will be able open the North section of the floor while they continue to carpet on the South side.  There will still be furniture all around and the serpentine seating will need to be reconnected, but we should be able to allow access to the areas, including the study carrels on the North side.  If you are a carrel user on the South side and need to get to your carrel, please let us know.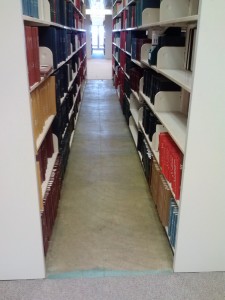 3rd & 4th floor bathrooms. Unfortunately the tile project in both bathrooms has been stalled for two unanticipated issues.  One is a discrepancy in the specifications of the tiles selected and a new tile needed to be chosen.  That was done on Thursday so the new tile is now on order.  The second issue that will take some time to resolve is the drainage in the floor. I won't go into detail but what they have uncovered is that the older drains in the floor will not allow for the waterproofing to be done correctly and as a result they need to do something to mitigate that.  It will likely take some time to figure out how to proceed so there is currently no estimation of when these might be completed.
Thank you for your patience!