The flooring company made great progress last week.
3rd & 4th floor bathrooms – Both have been successfully demo'd and it is expected that they will begin installing the new flooring later this week.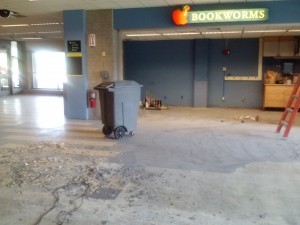 Bookworms – Demolition has taken longer than they expected, due to an incredibly stubborn glue from the last installation.  As a result, they are behind schedule on this piece of the project.  They will need to finish getting the tiles off the floor early this week and we are crossing our fingers that they can stay on track.  However, realistically Bookworms will likely not be open on Monday June 10th.  We will keep you posted on the progress of this.
3rd Floor – The next part of the project is the carpeting on the 3rd floor.  As with much of the work needing to be done, this floor will be tricky.  The intent is to do half of the floor at a time, with the remaining half for storage of the furniture that is currently on the floor. There will be an orchestrated effort to move the furniture as the flooring removal and installation moves along.  Due to the inability for us to know exactly how this will all work, we are closing the 3rd floor to the public starting this Wednesday, June 5th through Friday, June 14th.  If you have materials that need to come from the third floor stacks, please go to the iDesk on the Plaza level and they will assist.
The Roper Center on the 3rd floor will still remain open during this time.
Thanks for your patience!