Welcome back!
If you have not been with us all summer, you came back to a new look in many of the spaces in Babbidge.  The project is still in progress and we are happy to report that most of the public areas are open for the first week back.
Here is where we are:
Levels 2 & 3 Lobbies – have been completed.
Administrative Offices – They will be done this week and the staff located in this area will be moving back in on Tuesday & Wednesday.
Levels 1 & 2 Bathrooms – If they are not as of this post, they will be open today.  The final piece was getting the toilet paper holders on so folks could do their business.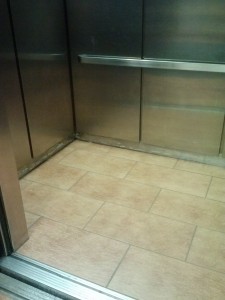 Elevators – Did you see how great the floor looks as opposed to the stained carpeting that was there? The base still needs to be applied but I'm sure you will agree they look great!
What's next?
Basement Bathrooms – The public bathrooms on Level B will be offline starting next week.  We apologize in advance for the noise disruption that will happen when they demo the rooms, but we expect it to be quick.
Class of 1947 – They will start carpeting that next week and we hope to have it back online for use by the week of the 9th.
Thanks to everyone for their patience.  We hope you have a great weekend!