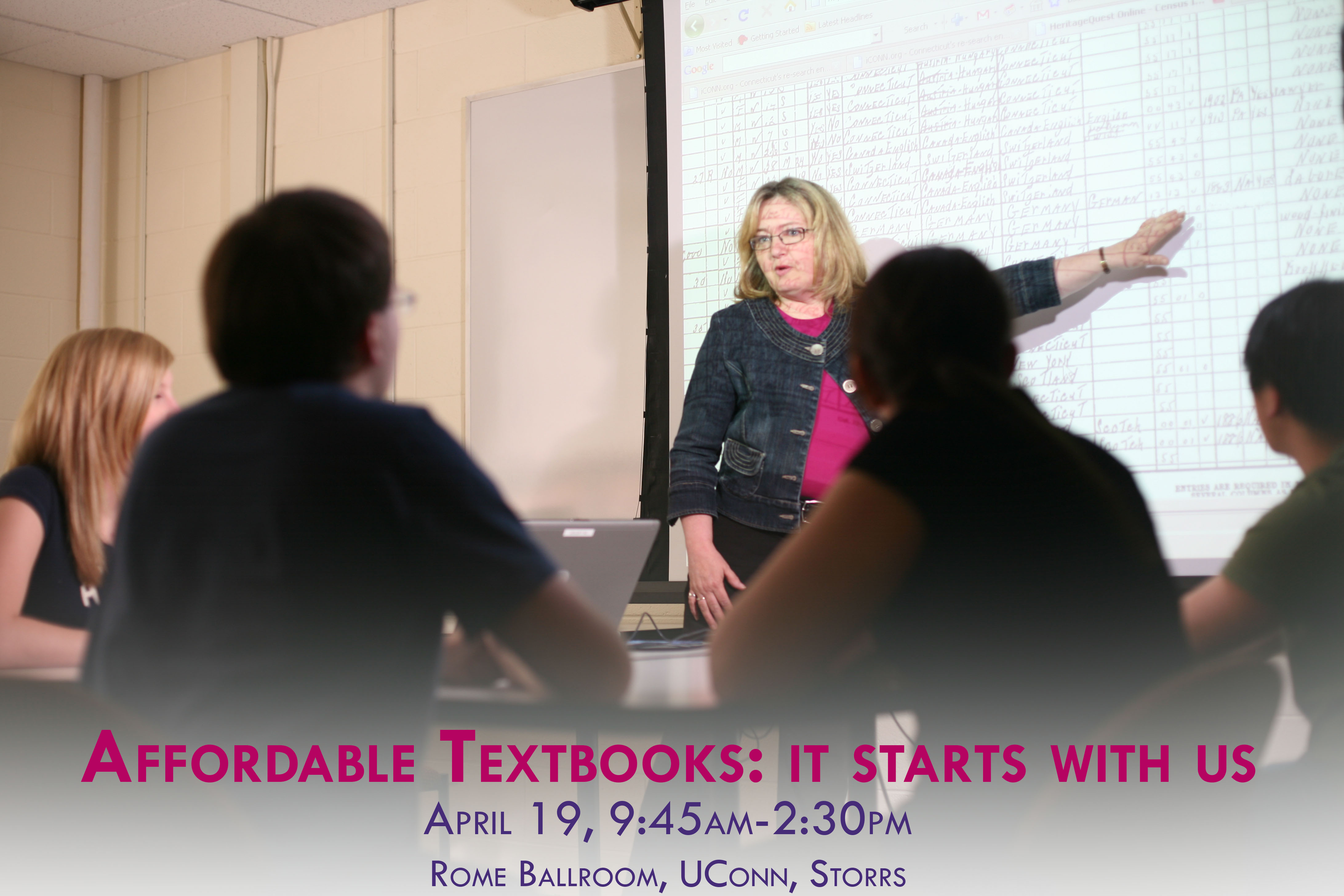 Faculty members play the key role in choosing, adapting, and developing new learning materials and methods which leads to student success. This symposium will be an opportunity to enter into conversations about the pedagogical possibilities that open/affordable learning resources offer and to become inspired to explore and integrate them into your own classrooms. These resources allow a freedom to develop, reuse, and remix materials of all types to create dynamic and engaging courses, all without increasing student debt or leaving behind students who are unable to afford expensive traditional materials.
We will be joined by experts on the national stage as well as those who have had success here at UConn to lead the conversation on the challenges and rewards to this style of teaching.
The symposium is being sponsored by the UConn Affordable Textbook Initiative (ATI) Task Force through a grant from the Davis Educational Foundation and the University Student Government. Established in 2015 by the Provost's Office, ATI is looking into best practices for excellence in teaching and learning using new, open, and/or alternative materials and methods that are more affordable for our students.
Tuesday, April 19, 2016
Rome Commons Ballroom, UConn, Storrs 
Registration is free and required. Lunch is included. 
Symposium Schedule:
9:15am – Registration and Reception
9:45am – Welcome
10:00am – Keynote Presentation – David Wiley
Dr. Wiley is Chief Academic Officer of Lumen Learning, an organization dedicated to increasing student success, reinvigorating pedagogy, and improving the affordability of education through the adoption of open educational resources by schools, community and state colleges, and universities. He is also currently the Education Fellow at Creative Commons and adjunct faculty in Brigham Young University's graduate program in Instructional Psychology and Technology, where he leads the Open Education Group (and was previously a tenured Associate Professor).
11:30am – Tim Dzurilla, PhD Candidate, Department of Political Science
12:00pm – Lunch & Table Top Discussions
1:00pm – Panel Discussion
Daniel Byrd, President Elect, UConn Undergraduate Student Government
Aynsley Diamond, Director of Faculty Development Programs, Center for Excellence in Teaching and Learning
Kathy Labadorf, Project Coordinator, Affordable Textbook Initiative, UConn Libraries
Edward Neth, Lecturer, Department of Chemistry
Amit Savkar, Associate Professor in Residence, Department of Mathematics
Ethan Senack, Higher Education Advocate, U.S. PIRG
Jeremy Teitelbaum, Dean, College of Liberal Arts & Sciences
2:00-2:30 – Wrap Up
If you have any questions, please contact Kathy Labadorf.