John Cropp is one of the newest members of the UConn Library staff and having been hired in the middle of a pandemic, many of us only know John from his face on the screen. John was hired in Access Service to provide support at the iDesk among other tasks, and has also become the advisor to the Homies Student Advisory Board.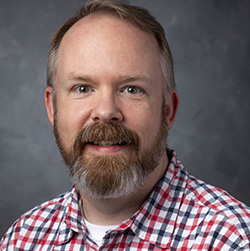 How did you get into libraries?
In short, the wonderful people in charge of the University of Georgia Libraries' Access Services department let me in. After countless applications and several interviews for library positions, they opened the door for me and it changed my life.
What do you love most about working in a library?
I love the eclectic community. And my role as the Homies' advisor has given me a chance to become involved with that eclectic community as well, which has been really fun and rewarding.
Do you have a good library story to share?
One of my first responsibilities was managing private study carrels at the UGA Main Library. They had been neglected so there were many carrels that were still assigned to students who had graduated and faculty members who had passed away. One faculty member that was marked as deceased had a carrel that was packed full of incredibly amazing books and artifacts from the university and surrounding communities. While searching for information about him so the items could be returned to his family, I found all kinds of interviews and news stories about him as well as books and websites that he had contributed to. He was obviously an incredibly interesting guy and it broke my heart that I was learning about him after he had passed away. Eventually, I came across a website that said he was teaching a course to a local community group that semester. Like Mark Twain before him, news of his demise had been grossly exaggerated. A few months later, I got to speak with him on the phone and found that he was indeed incredibly interesting and, thankfully, not at all deceased.
In the midst of the pandemic, what do you do to take your mind off the crazy things happening in the world right now?
Dream League soccer on my phone. When the world is spinning out of control, it is nice to have this little world inside my phone where I am in charge of a world-beating soccer team!
What is a positive that has come from this pandemic?
I have been able to spend much more time at home with my wife and daughter than I would have in normal times.
What was your first job?
I worked in the kitchen of a retirement facility. I made dozens of peanut butter and jelly sandwiches, helped deliver dinners to the dining rooms, and washed dishes.
What's your go-to productivity trick?
Listening to Paul Simon's "Graceland."
How do you prefer to start your day?
As slowly as possible.
How do you prefer to end your day?
As peacefully as possible.
What's one professional skill you're currently working on?
Time management. The pandemic has wrecked the routines and tricks that I relied on.
Tell us a fun fact about you.
I was once a character performer at Walt Disney World.
What is on your reading list?
Whatever my library school professors have assigned this week and a bunch of articles saved on my phone that I hope to read after the semester.
Do you have a favorite hobby?
Researching concert venues and old ballparks.
Everyone loves UConn for their own reasons. What is yours?
On my first day in the building as a UConn staff member, Joseph from security gave me a UConn paperweight and said, "welcome home." As a nutmegger adrift for many years, I always thought of Connecticut as home, but everyone at UConn has made me feel like I really am home.
Are you an early bird or a night owl?
Coffee assisted early bird.
What energizes you at work?
Solving problems and answering questions.
If you could snap your fingers and become an expert in something, what would it be?
Playing stringed instruments.
Do you have a hidden talent?
Mechanical puppetry.
If you could choose a superpower, what would it be?
Time travel. There are a lot of old concerts that I would like to attend and demolished ballparks that I would like to visit.
What's your most hated household chore?
Unloading the dishwasher.
What's your most used emoji?
Probably the heart-eyes emoji thanks to the petpics channel on the UConn Library Slack!