What country produces the most canola in the world? Where was wheat first grown? What state furthest south in the U.S. produces maple syrup? If you answered: 1) Canada 2) Mesopotamia or Iraq and 3) North Carolina you might have been able to match wits against the 80 or so Connecticut high school students who tested their knowledge about food, its history, and consumption during the Connecticut Geographic Alliance's 24th Annual Connecticut High School Geographic Challenge in the UConn Libraries on Tuesday, May 19. Sixteen teams competed in geographic activities including orienteering, geographic problem solving, map interpretation, and a geography quiz, all centered around the theme of food. Andy Jolly-Ballantine, assistant professor in residence from UConn's Geography department and coordinator of the Alliance, was master of ceremonies for the daylong event.
The winning team was from Bacon Academy in Colchester. Members include: Erica Boucher, Lauren Collins, Jared Kranc, Jillian Reynolds, and Nicholas Wright. Their advisor is Kristie Blanchard.
In second place was Daniel Hand High School from Madison. Members include: Connor Bondachuk, Courtney Burns, Patrick Fahey, and James O'Connor. Thomas Quirk is the advisor for the team.
Winning third place was Housatonic Valley Regional High School from Falls Village. Members are: Sam Bradway, Eric Chin, Jonathan Miller, Emily Sullivan, and Sara Van Deusen. Their advisor is Peter Vermilyea.
The CT High School Geography Challenge is the only interscholastic geography competition in the state for high school students. The Connecticut High School Geography Challenge is sponsored by the Connecticut Geographic Alliance, an alliance among educational institutions and individuals in the state of Connecticut dedicated to promoting geography education in the state of Connecticut and supported with funding from the National Geographic Society Education Foundation. The Connecticut High School Geography Challenge requires a high level of geographic knowledge and well-developed geography skills as well as good team work.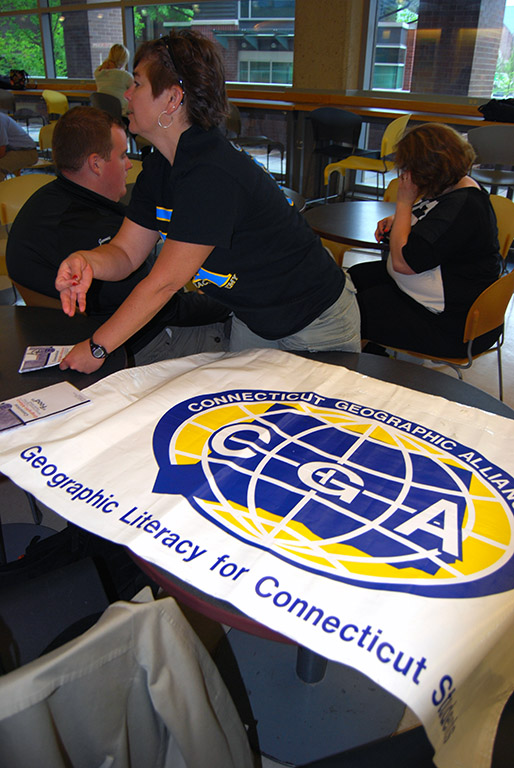 The winning plaques and medals were provided by Billie and David Kapp. Prior to retiring, Billie taught in Coventry and regularly participated in the popular event. David is a former staff member from the UConn Libraries.
Congratulations to all who participated!