Rebecca D'Angelo is a senior undergraduate student in History and Anthropology. In her blog series For Private Eyes Only she will study various diaries available in the Dodd Research Center's collections to explore the history of journal writing and reasons why we write journals.
I have a confession to make: I've been reading other people's diaries.
I didn't feel guilty about it at first. The diaries I've been reading are part of the Dodd Center's Diaries Collection. Most were written over one hundred years ago. Unlike other collections which tend to be organized by donor, the Diaries Collection houses an eclectic mix of personal diaries, daybooks, copybooks, and ledgers, many written by New Englanders. The collection spans one hundred years of journal writing, the earliest diary in the collection dating to 1851. Two diaries, which both date to 1943, are the latest in the collection; both were written by Connecticut women, one, a painter with the surname Whitlock living along the Connecticut shoreline, and the other, a University of Connecticut student named Ann T. Winchester who was studying to be a nurse during her time at UConn.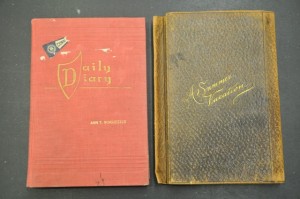 At first I viewed the diaries in the Dodd Center's collection purely as sources. I was interested in the stories they could tell me about the past and about the people who occupied it. I was also interested in the quite literal range of forms and colors present in this collection. Some, like Ann Winchester's are handwritten in a book printed with "Diary" on the front. Hers is bright red. Others are written in tiny notebooks, and others in leather-bound volumes. Some only include personal entries. In others, notes on the writer's day are included alongside general musings and business records.
Then I saw this message, inscribed on the inside cover of one diary written by S.E Warren, a young Massachusetts man training to become a school teacher in the 1850s. It read:
"All of my journals[,] To be read by no one but my parents in case of my death as a single man or widower. Others may see the index only, and may have such portions read to them as are not marked Private. Or else my relict or heirs only shall see them as above directed."
 Suddenly I felt like one of those TV sitcom dads who gets caught snooping through his daughter's diary. The person who wrote this diary didn't intend for me to read it. As a historian, I tend to forget that sources are generally not written for me. It's true that some historical accounts or objects are created "for future posterity." But generally, artifacts are the surviving residue of a past life, lived day-to-day, with little concern for what a history student writing about them in a blog would think about them one hundred years down the line. After all what is a diary, if not something extremely personal, a continuous letter to self? I'm guessing that S. E. Warren didn't intend for future historians to read his journal. Then again, he clearly anticipated that someone other than himself, his parents, or his heirs might pick it up. Why else would he have included such a preface?
As I continued browsing through these journals, I started thinking about my own journal-writing. I keep several irregular journals to explore my thoughts. I imagined S.E. Warren, Whitlock, and Ann T. Winchester each had their own similar motivation for writing in their respective journals. I thought back to other historical journals I had read. Growing up, I valued Anne Frank's diary for the story it told and for the perspective it offered me into the lives of Jewish German nationals forced to flee Germany during World War II. Now I began to wonder: Why did Anne value her diary? Realizing that I read other people's journals even though I barely go back and read my own, I started wondering why I kept mine. Why does anyone write in a diary or journal?
Today, psychologists and writers extol the benefits of journal-writing. A quick internet search on "why we write diaries" reveals a laundry list of blog articles encouraging me to keep a journal for various reasons – to reflect, to project, or simply to practice writing. In 2007, the New Yorker published a fabulous review piece that pondered this very question. "Diaries," the author suggests, "are exercises in self-justification." He ultimately concludes, "We write to appease the father. People abandon their diaries when they realize that the task is hopeless."
I am no psychologist and will not pretend to be one, but I am a historian and I'm interested in these questions – why did we write diaries in the past? Why do we continue writing them today? I intend to use this blog series to help me answer these questions. By reading, researching, and analyzing the range of diaries available through the Dodd Center's Diaries Collection I hope to explore the different forms diaries take on, the stories and details we entrust them with, and the function they serve in our lives.