I'd like to return to the diary of Ann Winchester in my final blog post of the series. In the 1940s, UConn final exams took place during the final week of January, several weeks after students returned from their holiday break. Ann's feelings toward her final exams vaguely resemble my own:
January 25: Got up at 6:30 to study bac[teriology] but couldn't take much of it (had gone stale). Final was at 8:30  I thought it was easy. Lab final was at 11:00 – it was a practical and rather hard…Studied psych again tonite but not too enthusiastically.
Ann's exam week ended five days later after suffering through a "stinking, unfair" Education exam.
Though I've spent the semester reading and writing about various different journals, I've occasionally returned to Ann's because her entries are so relatable. Though practical details of life at UConn in the 1940s are very different from the realities of modern life, the experience of being a student here remains the same in many ways.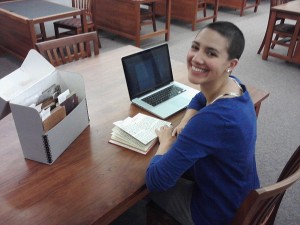 This semester, I reviewed four diaries, each unique in their description and purpose: there was the daily chronicling of Ann, the chatty 1940s UConn co-ed reflecting on her present, past, and future; the superficial impressions recorded by Mr. Dean Walker, a 19th-century bourgeois American traveler making his way through Europe for the first time; the shared sentiments of friendship collected by Mary Clark, a young lady from Massachusetts ostensibly preparing to depart for school; and the four-year attempt made by Sherwood Ransom, a working-class seamen in the New London whaling industry, to maintain some semblance of privacy while living and working intensely in the same, shared space.
My goal in researching each of these diaries was to understand the reasons why people have written diaries now and in the past. I wanted to challenge the oft-repeated contemporary assumption that a diary is simply a place for superficial, personal reflection. This assumption can hurt our understanding of diaries as historical objects and sources, and it obscures our understanding of the various reasons why people committed their thoughts to paper.
So why do we write diaries? The answer ultimately hinges on the writer and the context of their world. But there are similarities between all four of these that gets us closer to a more general answer: we write journals to disclose, to reflect, to collect objects and thoughts of importance, and to pass the time.
Still – there are at least a dozen more journals in this collection that I did not read, which means there may also be at least a dozen more answers to this question. Writing is always situational. We learn the purpose of a diary to its writer by reading its contents, not by assuming that its "personal" nature gives it a universal purpose.
And as for my own writing? My interest in keeping a journal relates to something author Joan Didion wrote about her own journal-writing tendencies: "My stake is always, of course, in the unmentioned girl in the plaid silk dress. Remember what it was to be me: that is always the point."
Rebecca D'Angelo is a senior undergraduate student in History and Anthropology. For her blog series For Private Eyes Only she spent the Fall Semester studying diaries available in Archives and Special Collections at the Dodd Research Center and exploring the history of journal writing and reasons why we write journals.