Studying literature means anthologies. There's no way around it. If you are enrolled in a college literature course, you'll have an anthology. These are large and heavy textbooks, with thin pages and flimsy covers, so delicate that the pages wrinkle at the touch and the corners crush or bend during normal use.
Perhaps even more fragile, though, are the contents. The canon of British Literature, or of American Literature, or of poetry, or drama, or the short story, will never be the same from one year to another. We still read Samuel Taylor Coleridge in our anthologies of Romantic-era British literature, but where now is Robert Southey, his once more-popular contemporary?
Point is, the canon is always changing. Our nineteenth century canon is different from the twentieth century's nineteenth century canon. We constantly change our perspective of what literature was in a given time and place. Anthologies reflect current views of a time and place, shaped by scholarship, cultural tastes, and social or institutional values of the time period.
The Rare Books Collection here in Archives and Special Collections does not have this problem. Here are thousands of books, none of which have been placed there by an editorial committee, or singled out to fit a specific idea or interest. Here we have the opportunity to be that editorial committee ourselves,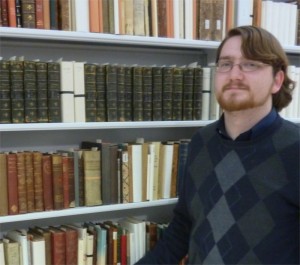 to find our own scholarly ideas or interests, to find what past literature has to offer to us, without mediation or abridgment. Why should we not read The Poetical Works of Joseph Addison (1805), or learn how life is to be lived from John Anstey's The Pleader's Guide, A Didactic Poem (1803)? While we are looking more at women writers, why not consider Jenny Fenno's Original Compositions in Prose and Verse (1803)?
All of these works have something valuable to offer.  By engaging in a conversation with the text and by putting the texts in conversation with each other, we can find that value. To the reader these texts may at first seem obscure, irrelevant, or even silly, but the purpose of this blog series is to guide you through this process, to come to appreciate the non-canonical and the forgotten, and to question our assumptions.
Writing in the mid-nineteenth century, Charles Baudelaire wrote the phrase I use now to title this series, Hypocrite Lecteur.  In "Au Lecteur," ("To the Reader") the preface poem to Les Fleurs du Mal (1857), Baudelaire accuses his readers of a common indifference to art and the world, a lack of critical thought which endangers us all, finally naming the cause of this menace, ennui:
It's BOREDOM. Tears have glued its eyes together.
You know it well, my Reader. This obscene
beast chain-smokes yawning for the guillotine—
you—hypocrite Reader—my double—my brother! (Trans. Robert Lowell)
Let us take Baudelaire's warning in hand and question the canon and our own former thoughts. In my blog series Hypocrite Lecteur, I will leave anthologies, leave even Baudelaire, and discover the literarily obscure for myself, on a journey through what the Rare Books Collection has to offer. Over a series of months, I'll be reading and reporting back.
Come along, this will be fun.
Daniel Allie is a senior undergraduate student in English. For his blog series Hypocrite Lecteur he will spend the Spring 2014 Semester exploring nineteenth-century literature in a variety of genres from the Rare Books Collection housed in Archives and Special Collections at the Dodd Research Center.