by Ed Luker
The name J. H. Prynne signifies a strange clash of scale in the collective imagination of readers of British poetry. He is monumental enough to be canonized in The Cambridge Guide to Literature in English (ed. Dominic Head), and has been described by the critic Peter Ackroyd as "without doubt the most formidable and accomplished poet in England today". However, side glances at the mention of Prynne's name in most of the broadsheet press in the UK would lead one to believe that he was a minor figure, something of a mandarin, and -like all entities too small to take care of themselves- suffering from a hermetic self-diminution.
It would be much more apt to state that whilst many readers of poetry are in some sense familiar with a certain received idea of his work, it is much less likely that those familiarities connote careful engagement. This is in part due to his lack of inclusion within university reading lists (perhaps concomitantly with the daunting thickness of the yellow brick – the collected works), but also due to the truism that his poetry forces a huge strain on readers' habituated patterns of verse cognition. A recent essay on a late Prynne collection, Acrylic Tips, by the poet Timothy Thornton published online by Hix Eros describes a frustration of such disruptions, particularly the inability of image clusters to remain continuous:
The image tests the pattern, coaxes from us an instinct of its threshold, but then breaks it or crosses it or falls short, perhaps as a glint beginning the generation of a whole new topology or network; or perhaps merely as an unilluminating collision, the image simply glancing off and coming to seem to us inexplicable, redundant, even objectionable.
If one were to consider the ludicrous metaphor that each of Prynne's books resembles a climbing wall, the attempt to transition from one book to the next would leave the climber with the bolt-on under hand disappearing from grip whilst the wall itself shifts in rotation. My own research is currently attempting to cling on to the relatively early under-hang at the base of Prynne's oeuvre between The White Stones and Brass.
The former of which was written across the mid to late sixties and published in 1969, the latter was published in 1971. The transition between these two books is arguably the largest shift in Prynne's oeuvre due to the move away from a style in The White Stones that holds a certain familiarity for readers familiar with the poetry of Charles Olson and Ed Dorn. That shift into Brass was a shift into a voice that was distinctively Prynne's own, divesting itself of a lyric sentimentality and excoriating a form ambition based on the figure of The Poet.
Although published over forty years ago, what makes the task of writing about The White Stones and Brass so equally exciting and daunting is that it feels like the development of Prynne criticism is still in a nascent stage. The number of single author studies on his work barely amounts to a handful. The amount of information on his work by the author is also acutely scant. Thus, the archives at the Dodd Center contain a set of valuable commodities in his letters to Olson and Dorn.
Exhibiting the reflections and considerations of a young poet in a formative stage of his artistic career, the first thing to note about the letters is that they helped to confirm certain suspicions. The letters to Olson make it clear that Prynne was a ravenous and catholic reader. They contain references to the etymology of English place names, continental phenomenology, definitional Anglo-American analytic philosophy, a host of work on North European folklore, Christian theology, an anthropology of shamanism, as well as collations of classical mechanics, theories of time, and geomorphology. Many of the letters appear to be responses to Olson's requests for information about matters for Olson's poetry, such as economic history of shipping and trade between New England and the old world.
Olson wished to know more about the most significant traders in Gloucester, presumably for his Maximus poems. I had not known that Prynne worked as an informal researcher for Olson in such a close manner. Reading the letters really highlighted how in awe of Olson the British poet was, confirming that the poem 'Lashed To The Mast', which opens "Thus you have everything, at this | moment, that I could ever | command" was written in direct address to Olson, sent to him before it was ever published elsewhere.
To give a more concrete example of how the archives assisted my project, one thing I had been pondering over for a while was what the word 'love' might mean within The White Stones. To pick out one particular example, first of all from 'Song in Sight of the World: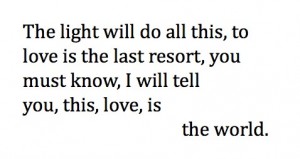 The poetic voice is resolute to express its message, "I will tell | you", yet the separation of the first person pronoun from the 'you' is maintained alongside the inability of the deictic 'this' to be conjoined with 'love'. Consequently 'love', the message the poetic voice wills to commit to, is still suspended from the 'I'. This threefold separation is grounded in the overall separation from 'the world' hanging suspended, a satellite in stasis lingering at the end. I had a feeling that this outline of 'love' was not romantic or erotic but something more akin to a Christian agape. I had been reading the writings of the theologian Paul Tillich and felt that there was a tangible similarity between his arguments about the separation from the 'Ground of Being' to certain arguments within The White Stones.  For example in his sermon, later republished in The Shaking of the Foundations, 'You are accepted' Tillich writes:
He who is able to love himself is able to love others also; he who has learned to overcome self-contempt has overcome his contempt for others. But the depth of our separation lies in just the fact that we are not capable of a great and merciful divine love towards ourselves. On the contrary, in each of us there is an instinct of self-destruction, which is as strong as our instinct of self-preservation. In our tendency to abuse and destroy others, there is an open or hidden tendency to abuse and to destroy ourselves.
Whilst the separation of love from the world as a 'Ground of Being' mirrors that in operation in 'Song in Sight of the World', it also reminds me of Prynne's argument about desire and compulsion in 'Star Damage at Home', that "we must have the damage by which | the stars burn in their courses", and also, with Christological implications "there should be | torture in our midst". What is also significant about comparing Tillich to Prynne is that it made me think of an apparent paradox in Prynne's conception of alienation in his poetry of the sixties. On the one hand in 'Questions for the Time Being' Prynne writes "when almost everything is exactly that, the | mirror of a would-be alien who won't see how | much he is at home", this seems like a very dismissive argument about self-estrangement. On the other hand poems in The White Stones insist that "we live here and must mean it, the last person we are", but what this nagging insistence implies is that the 'we' who currently lives here does not mean it and lives 'here' in ignorance of that fact. The 'we' is not at home in its home.
Whilst I had been milling over these considerations before I arrived at the Dodd Research Center, one thing I was pleasingly surprised to uncover from looking at Prynne's letters to Ed Dorn was that he had read Paul Tillich. In the first box of materials to Dorn there is an undated document that appears to be a reading list entitled 'Some Works Containing Discussions Of Scientific And Christian Time, History, And Causal Explanation'. Although one cannot be certain of the compiler, it contains many typographical features that share a resemblance to the typed materials that were sent to Olson by Prynne in the mid sixties. Amongst the list there are four texts listed by Tillich. The extent to which Tillich was an influence on Prynne's thinking is something I will have to consider further, especially considering the sheer breadth of materials Prynne was reading at the time.
The Archives at the Dodd Center have enabled me to uncover what Prynne was reading within identifiable time frames. Most of the discoveries of how that reading relates to the poems are still to come. For the last few days I have been reading 'Cosmogonies of our Fathers: Some Theories of the Seventeenth and the Eighteenth Centuries', by Katharine Brownell Collier, recommended to Olson in a letter dated 7th January 1964. This has lead me to consider a noun phrase I had previously overlooked in 'Star Damage at Home',  "That some star | not included in the middle heavens should | pine in earth". I had previously failed to notice that 'middle heavens' would indicate a transition within Christian cosmology from the influence of pre-Christian cosmology (which here may well be of Babylonian origin, or so A. Y. Collins argues in her book Cosmology and Eschatology in Jewish and Christian Apocalypticism) that trouble our modern idea of there being merely a heaven and an earth. What the significance of a middle heaven might mean for the rest of the poem, or what the relation of importations of various mixed cosmologies means as a whole is work still to be uncovered.
Ed Luker is a PhD candidate in English Literature at University of Northumbria.  He was awarded a Rose and Sigmund Strochlitz Travel Grant by Archives and Special Collections at the University of Connecticut to support his ongoing research on the poets J. H. Prynne, Charles Olson and Ed Dorn whose papers reside in the Archives.