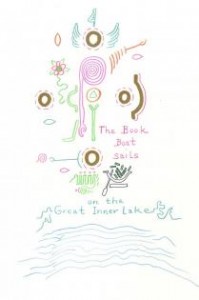 Long a hub for hearing the poetry and poetic voices of the now, New York City next week and the week after hosts some of the best poetry events and exhibitions happening during this National Poetry Month.
On Tuesday, April 14, the prolific and prize-winning poet Alice Notley will read her work at the City University of New York Center for the Humanities.  Erica Kaufman, editor of the ever-fresh and propitious Lost & Found publication series, an initiative of the CUNY Center for the Humanities, will lead a conversation with Notley during the program.
While you are in the City, see the rarely exhibited notebooks and drawings of the poet, musician, activist Ed Sanders on display at the Poet's House, located on its serene perch at 10 River Terrace.  During the course of a long and diverse career Sanders used a glyphic alphabet, a script of hand-drawn characters, symbols, and graphemes.  In his words, "a Glyph is a drawing that is charged with literary, emotional, historical or mythic, and poetic intensity." Curated by Ammiel Alcalay and Kendra Sullivan, the show displays pictures and manuscripts by Sanders from 1962 to the present. 
On Thursday, April 23, Pulitzer Prize-winner Sharon Olds, and Bob Holman, founder of the Bowery Poetry Café, will sit in a booth (inspired by Lucy's booth from the Peanuts comic strip) and write poems for those who request one.  The Poet is In: takes place in the new Fulton Street Station and features an array of award-winning poets, including NY State Poet Laureate Marie Howe.  Free and open to the public, 11 a.m. to 6 p.m.