by Matt Jones, Graduate Student Library Assistant in Archives and Special Collections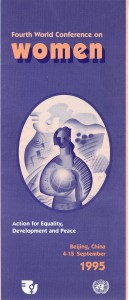 2015 marks the twenty-year anniversary of the Fourth World Conference on Women held 4-15 September, 1995 in Beijing, China.  The previous world conferences occurred in 1975 (Mexico City), 1980 (Copenhagen), and 1985 (Nairobi). While there do not appear to be concrete plans for a fifth conference, a series of events, colloquia, and reflections are currently taking place around the world under the aegis of Beijing +20.
A new exhibition in Archives and Special Collections' Reading Room showcases original media programs,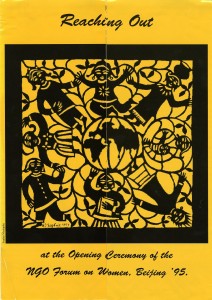 agendas, and country-specific notes for delegates from the 1995 Conference.  Also on display are materials published in response to or in anticipation of the conference including editorials, news bulletins, fliers, and response booklets. These materials represent a small but helpful glimpse into not only the conference itself but also a number of cultural conflicts that arose when approaching these topics as well as calls for ever greater activity and solidarity from their being brought to international light.
Items featured in the display are from the Human Rights Internet Collection (HRI) housed in the Archives and Special Collections at the Thomas J. Dodd Research Center. The collection contains thousands of publications and rare pamphlets from around the world collected from 1977 to the present by Human Rights Internet, a non-governmental organization based out of Ottawa, Canada. The collection includes materials not found in any other libraries in North America, and includes publications in a variety of languages including English, French, Spanish, Dutch, German, Swedish, Chinese and Japanese.  Many publications are cataloged and searchable through HOMER, the library's online public catalog.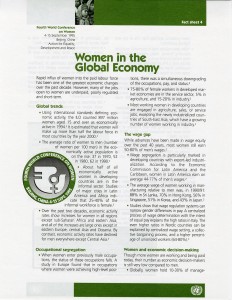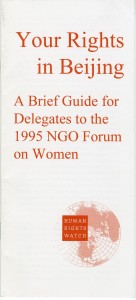 Much of the international response addressed concerns regarding how to interpret the twelve points of the Beijing Plan for Action (listed below).  Some voices, such as that coming from Amnesty International, advocated for more direct action in response to the twelve points.  Others, such as the Members from Developed Countries of the NGO Coalition for Women and the Family, voiced anxieties that the Platform for Action would compromise traditional values.  Others still, such as The Globe and Mail, express concerns stemming from the conference being held in China.  A pamphlet released by Human Rights Watch and directed at delegates attending the conference explains how to effectively navigate China and its "government contrls on freedom of expression, association, assembly and religion" is on display in the exhibition.
1995 World Conference on Women – Beijing Plan for Action:
Women and Poverty
Education and Training of Women
Women and Health
Violence against Women
Women and Armed Conflict
Women and the Economy
Women in Power and Decision-making
Institutional Mechanism for the Advancement of Women
Human Rights of Women
Women and the Media
Women and the Environment
The Girl-child
For more on the 1995 Beijing conference and on current activity relating to its twenty year anniversary you can visit these websites:
http://beijing20.unwomen.org/en
http://www.un.org/womenwatch/daw/beijing/
http://www.un.org/womenwatch/daw/beijing/platform/index.html