by Suzanne Zack, University Libraries, for UConn Today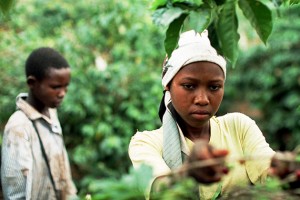 The late U. Roberto (Robin) Romano was an accomplished photographer, award-winning filmmaker, and human rights advocate who unflinchingly focused his eye and lens on children around the world, capturing the violation of their rights.
Since 2009, Romano had made a limited number of his images available to researchers through the UConn Libraries' Archives & Special Collections. Now, two years after his death, his total body of work, including video tape masters and digital video files, hundreds of interviews, thousands of digital photos and prints, plus his research files have been given to UConn and will now be available to those who examine human rights issues.
More than 100 of Romano's images of child labor originally exhibited at the UConn's William Benton Museum of Fine Art in 2006 are available online from the University Archives & Special Collections. These are the first of the more than 130,000 still images that will be available online for research and educational use once the collection is processed. The Archives & Special Collections plans to digitize the entire collection of analog still images, negatives, and research files, creating an unprecedented online resource relating to documentary journalism, child labor and human rights, and other social issues that Romano documented during his lifetime.  Continue reading…