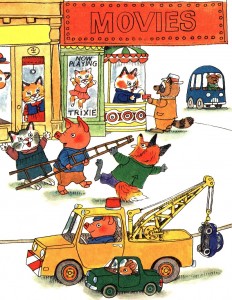 Busytown, the bustling small town and home to such resident characters as Huckle Cat, Lowly Worm, Mr. Frumble, Police Sergeant Murphy, Mr. Fixit, and Hilda Hippo, was first depicted in the book Richard Scarry's Busy, Busy World.  The fictional town was a central feature in several Richard Scarry books and has been depicted through time in a variety of formats, including games, toys, activity books, and an animated series.
Richard Scarry, the popular and much-loved American author and illustrator of over 300 children's books, is known for such classics as Richard Scarry's Best Word Book Ever released in 1963, Richard Scarry's Busy, Busy World (1965), Richard Scarry's Storybook Dictionary (1966), and What Do People Do All Day (1968).  Selling millions of copies during his lifetime, many Scarry books, though regularly updated and re-issused, have never been out of print.  Several have have been translated into over 20 languages.
Join us tomorrow evening, Tuesday November 10, 6:00pm for a special guest lecture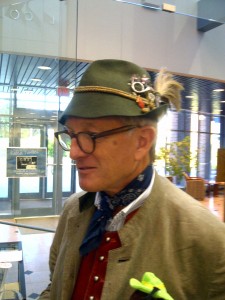 "The Story of Richard Scarry's Busytown" with Scarry's son, Richard "Huck" Scarry II. Also an artist and author of children's books, Huck Scarry published a new Scarry picture book for the first time in the U.S. since the elder Scarry's death in 1994.  With Richard Scarry's Best Lowly Worm Book Ever! Huck Scarry began a season of re-releasing Scarry's classics to commemorate the 50th anniversary of Richard Scarry's best-known book, Richard Scarry's Best Word Book Ever.  The guest lecture event will take place in the Class of 1947 Room, Homer Babbidge Library, University of Connecticut in Storrs.  The lecture is free and open to the public and is presented in conjunction with the 24th Annual Connecticut Children's Book Fair taking place at UConn on Saturday and Sunday, November 14 and 15, 2015.
Richard Scarry's personal papers and archives, preserved and available in Archives and Special Collections at the Dodd Research Center, document the creation, production, and distribution of his books for children. The archives are part of the Northeast Children's Literature Collection and contain materials and correspondence concerning Scarry's early work, with Western Publishing and Little Golden Books, beginning in the 1950s. The bulk of the material in the archives concerns the works produced by Scarry during his later association with Random House.