No matter where your political allegiance lies it is impossible to deny the significance of Hillary Clinton's ascent towards the Democratic nomination for president.  It is also a time to acknowledge the importance of women who came before her. Through the generous donation and support of one of her family members we are lucky to have the personal and professional papers of one such woman, Vivien Kellems, in our care.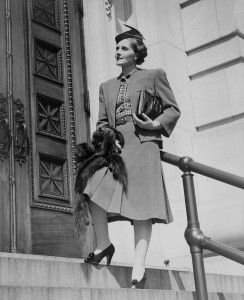 Born in 1896 Kellems (or 'Viv' as we fondly refer to her) is a gem of Connecticut women's history.  She owned and dedicatedly operated Kellems Cable Grips company first out of Westport and then Stonington.  The company produced and sold her brother Edgar's invention for stringing electrical wiring.  She ran for senate a total of four times in the years 1950, 1956, 1962 and 1965.  She also made a run for governor of Connecticut in 1954.  Although she was unsuccessful in her campaigns, Kellems was in no way defeated.
Believing the tax system to be unfair both to small business and unmarried individuals Vivien Kellems very publicly fought for tax reform; publishing a book on the subject in 1952 "Toil, Taxes and Troubles".  She also headed the formation of a group of like-minded individuals dubbed 'The Liberty Belles'.  Yet another campaign for Vivien was a call for voting reform – deeming it unfair Americans be forced to vote along party lines only and not for individual candidates.  In demonstration of her protest Kellems camped out in a voting booth for hours only having to leave when she fainted.
Currently her papers including family, business and political correspondence are being thoroughly processed and digitized.  You're invited and encouraged to keep checking in on the progress through this link.  As we celebrate the accomplishments of our contemporaries let's also remember that women have always been bold and remarkable.
Oh and Viv also has pretty fabulous handwriting.