Louise Menzies, a New Zealand artist, has returned to Archives & Special Collections to explore the extensive holdings in the Alternative Press Collection, with the help of curators Graham Stinnett, Melissa Watterworth Batt, and Kristin Eshelman.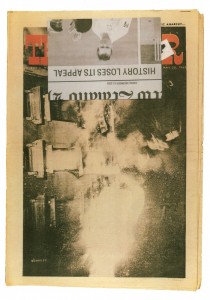 Ms. Menzies' new exhibition is a "series of new photographic and paper-based works that merge form and content, raising subtle questions about the values inhabiting certain processes and styles, as seen [in] the predominantly activist and underground press material that comprise the collection." (Professor Barry Rosenberg).  Ms. Menzies will also present a 16mm film from 2013, entitled The Press, Kodak Eastman 5222.
Ms. Menzies gave a gallery talk on Time to Think Like a Mountain on Wednesday, Oct. 8 to an appreciative audience in the Contemporary Art Galleries, Art Building.  The exhibition will run through November 21, 2014,  For more information contact Professor Rosenberg at 860.486.1511.