The post was contributed by Michael Rodriguez, Collections Strategist at the UConn Library.
The University of Connecticut has a strong presence on Wikipedia, which goes under the tagline "the free encyclopedia that anyone can edit." In a personal summer project, I wrote thirty new encyclopedia articles and expanded seven others about influential figures in UConn's history. For sources, I drew on texts and images from Archives and Special Collections, as well as other UConn Library resources that brought to life the university's remarkable history and people.
Background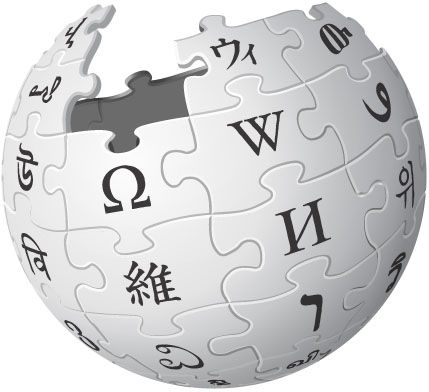 Wikipedia is one of the world's most-viewed websites. Founded in 2001, Wikipedia has over 6 million articles and 3.5 billion words in English alone. Edits happen at a rate of 1.9 per second. Wikipedia is the first stop for millions of people seeking a quick fact, a topic overview, or links to other sources. But because Wikipedia is 100% crowdsourced, articles exist only if someone cares enough to write them and then navigate Wikipedia's maze of rules to publish them.
When I began editing, eleven of UConn's twenty-one presidents and principals lacked Wikipedia articles about them. Notable scholars such as Henry P. Armsby and Nathan L. Whetten had zero representation. Wikipedia had little coverage of influential faculty and philanthropists whose names we see on campus buildings. Not a single woman who had a campus building named after her was represented on Wikipedia, reflecting Wikipedia's longstanding gender gap.
Wikipedia cautions against editing where editors may have a conflict of interest. I wrote my contributions off the clock, but even so, I generally avoided writing about living people. I wrote about no one I knew. I consulted a range of sources, citing not only university publications, for instance, but also the Hartford Courant and other sources unaffiliated with UConn.
Who did I write about?
First, I wrote about UConn women with buildings named in their honor. Did you know that Josephine Dolan—the first nursing professor at UConn—built the school's Dolan Collection of Nursing History? Did you know that the namesake of the M. Estella Sprague Residence Hall served as UConn's first dean of home economics in the 1920s? Did you know that the Frances Osborne Kellogg Dairy Center is named for one of Connecticut's earliest female business executives? Her home is a state museum on the Connecticut Women's Heritage Trail.
Second, I wrote about UConn presidents. Did you know that the college's first leader, Solomon Mead, patented a special plough? Or that Harry J. Hartley was named Man of the Year by the Daily Campus student newspaper in 1978? Or that Charles L. Beach commissioned Ellen Emmet Rand to paint a posthumous portrait of his beloved wife, Louise? Or that Benjamin F. Koons fought in 17 Civil War battles and ran an Alabama freedman's school during Reconstruction?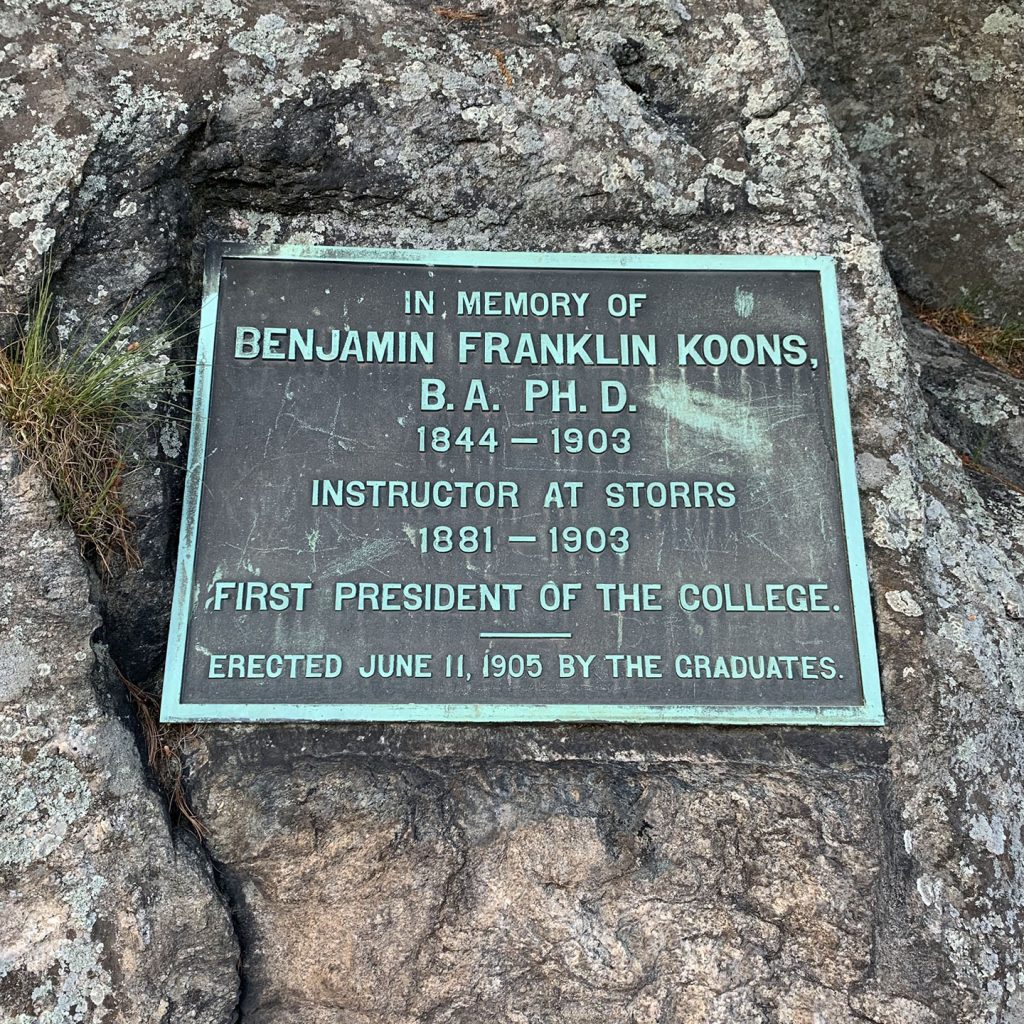 Third, I wrote about the chroniclers of UConn's history. Did you know that Jerauld Manter, who served as UConn's unofficial photographer for half a century, has a gnat named after him? Or that forty-eight erstwhile Daily Campus student editors attended the retirement party of their mentor Walter Stemmons, chronicler of UConn's first semicentennial? Or that Bruce M. Stave, who literally wrote the book on UConn, was president of the Federation of University Teachers during the campaign that brought collective bargaining to the university in 1976? Stemmons and Stave wrote authoritative histories, including Connecticut Agricultural History: A History (1931) and Red Brick in the Land of Steady Habits (2006). These chroniclers were such key sources for so many articles that I had to celebrate them with articles of their own.
Fourth, I wrote about influential faculty. Sidney Waxman brought along his .22 rifle on car trips, shooting down pinecones to augment his dwarf conifer collection. Henry Ruthven Monteith's daughter, Marjorie, scored the second goal at UConn's first women's basketball game. George Safford Torrey played the organ and carillon at Storrs Congregational Church. Albert E. Waugh, provost for decades, was the only American member of a German group called Friends of Old Clocks. While I necessarily focused on getting facts right, the humanity of these figures, as well as their remarkable contributions to science and to the school, shone through my sources.
Finally, I wrote about figures who, while not faculty members or presidents, nevertheless exerted a powerful influence on the university's history. Charles and Augustus Storrs donated land and money to start the university in 1881. T. S. Gold was godfather of the school from its inception, shepherding it through its infancy and ensuring it remained viable and appropriately resourced. The Ratcliffe Hicks School of Agriculture was named for an industrialist up the road in Tolland. Ratcliffe's daughter, Elizabeth Hicks, has a UConn residence hall named in her honor.
Using the archives
UConn Library's Archives & Special Collections (ASC) were an incredible resource. ASC collects the papers of presidents, prominent faculty, and other figures associated with the University. To inventory materials and guide researchers, archivists write finding aids, which often include biographical information. Finding aids proved a valuable source, as well as helping me assess who was notable enough to merit Wikipedia articles about them. I linked to finding aids in the "External links" section of most of my Wikipedia contributions, ensuring bibliographical depth.
For each article I wrote, I searched the Connecticut Digital Archive (CTDA), a UConn-sponsored statewide repository for digital cultural heritage materials. I searched the CTDA for digital scans of old photographs, newspapers, Nutmeg yearbooks, and booklets such as Three Pioneers and Handbook of Connecticut Agriculture. I combed past issues of UConn Today and its forerunner, UConn Advance, looking for commemorative essays. Mark J. Roy's charming series A Piece of UConn History, which ran from 1997 to 2005, was especially useful. In addition, I drew on posts by archivists and graduate students on UConn's Archives & Special Collections Blog.
Finally, I drew on the expertise of archivists. I requested high-resolution images from University Archivist Betsy Pittman when scanned online copies proved too pixelated for Wikipedia. Betsy even found me a never-before-digitized photo of UConn coach and acting president Edwin O. Smith. I am grateful for both archives and archivists—the collective memory of the university.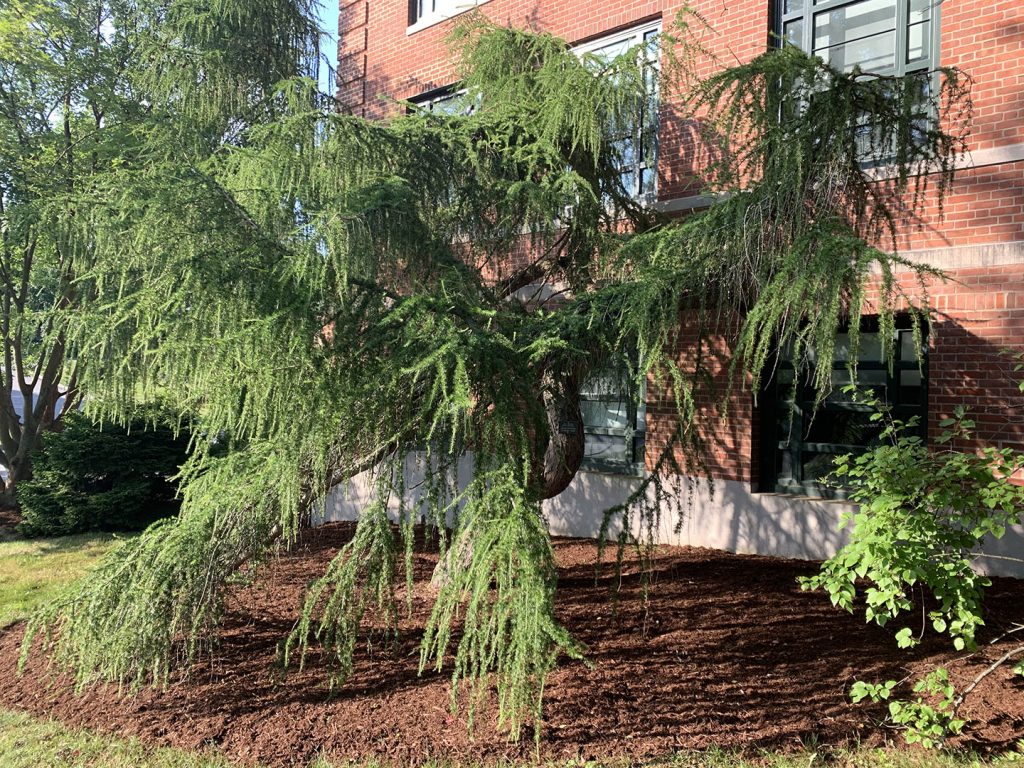 In addition to contributing text, I contributed images to Wikimedia Commons and Wikipedia. I took photos of various named campus buildings—and a European larch dwarf conifer cultivated by Sidney Waxman—and released the images for unlimited public use on Wikimedia Commons. I downloaded pre-1925 portrait photographs from the CTDA and uploaded them to Wikimedia Commons too, maximizing their discoverability and linking back to the CTDA. Where no portrait existed online, I tracked down group photos in yearbooks or newspapers, took screen captures, and cropped them. When the only extant photos were not clearly uncopyrighted, I used one of the very few fair use exceptions permitted by Wikipedia, in which historic portraits of deceased persons may be uploaded solely to illustrate their Wikipedia biography. I sourced most images from UConn's archival collections, as well as from UConn Today and various books and serials in HathiTrust Digital Library. Contributing images to Wikipedia is a great way to boost visibility of those images while driving traffic to UConn's digital archival content in the CTDA.
What's next?
UConn's people, places, and unique resources are better represented on Wikipedia than ever. But this work is hardly done. I plan to monitor the in-memoriam section of UConn Today—what better way of acknowledging a prominent professor's passing than ensuring that they get the most widely read Who's Who-equivalent entry on the planet? In fact, one of my most recent articles was on Roger Buckley, founding director of the Asian and American Studies Institute, who died in August 2020. I will continue to create articles for UConn people with landmarks named in their honor, such as puppeteer Frank W. Ballard and cellist J. Louis von der Mehden.
On Wikipedia, the editing never ends.