This post was written by Shaine Scarminach, a UConn History Ph.D candidate who is a student assistant in Archives & Special Collections. The letters are from the E. Ingraham Company Records.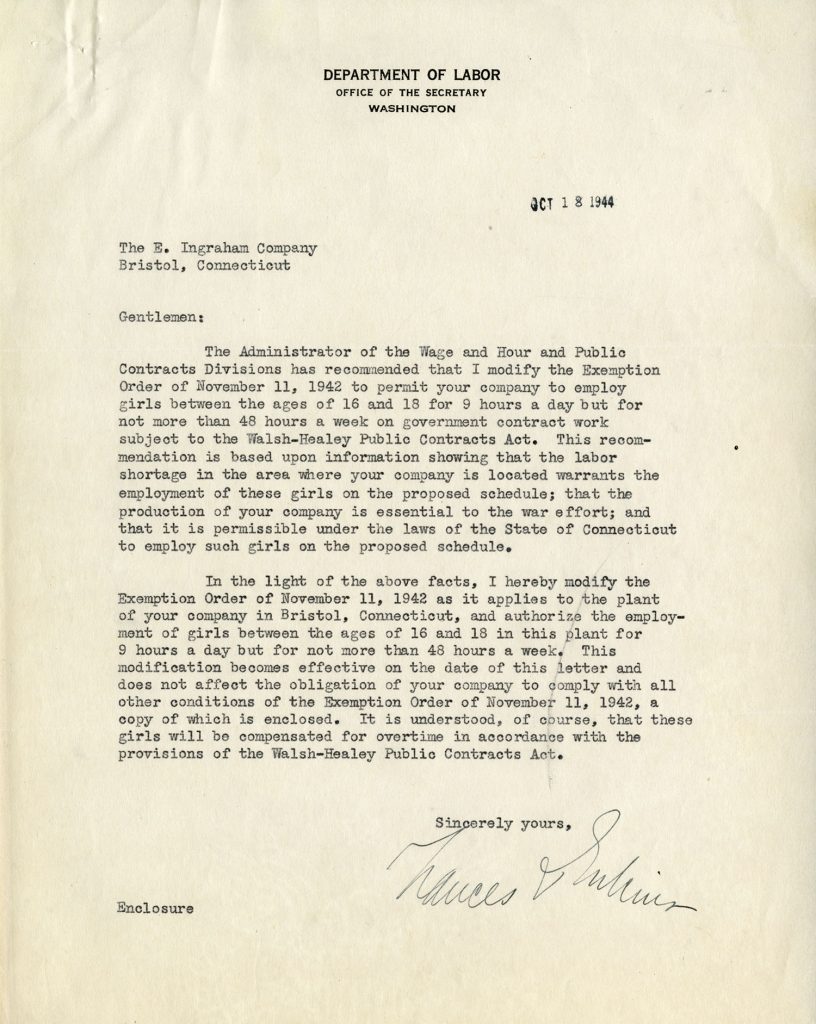 In late October 1944, famed U.S. Secretary of Labor Frances Perkins wrote to the E. Ingraham Company of Bristol, Connecticut. In her letter, she gave the company permission to employ girls between the ages of sixteen and eighteen for nine hours a day. Under an earlier federal regulation, young girls could only work for eight hours a day.
But as Perkins's acknowledged, times had changed: a labor shortage in Bristol and the essential work of the E. Ingraham Company to the war effort meant rules would have to be bent – if only temporarily.
Founded in 1831, the E. Ingraham Company had by the 1940s become one of the most successful clock and watch makers in the United States. The company's successful manufacturing operations, though, would soon serve a different purpose. In 1942, the War Production Board drafted the company into the U.S. military effort against the Axis powers.
Following the Japanese attack on Pearl Harbor, industries throughout the United States shifted from producing for the consumer market to providing essential material for the war effort. The E. Ingraham Company went from crafting fine clocks and its popular "dollar watches" to cranking out mechanical time fuzes for the Army and Navy.
Lo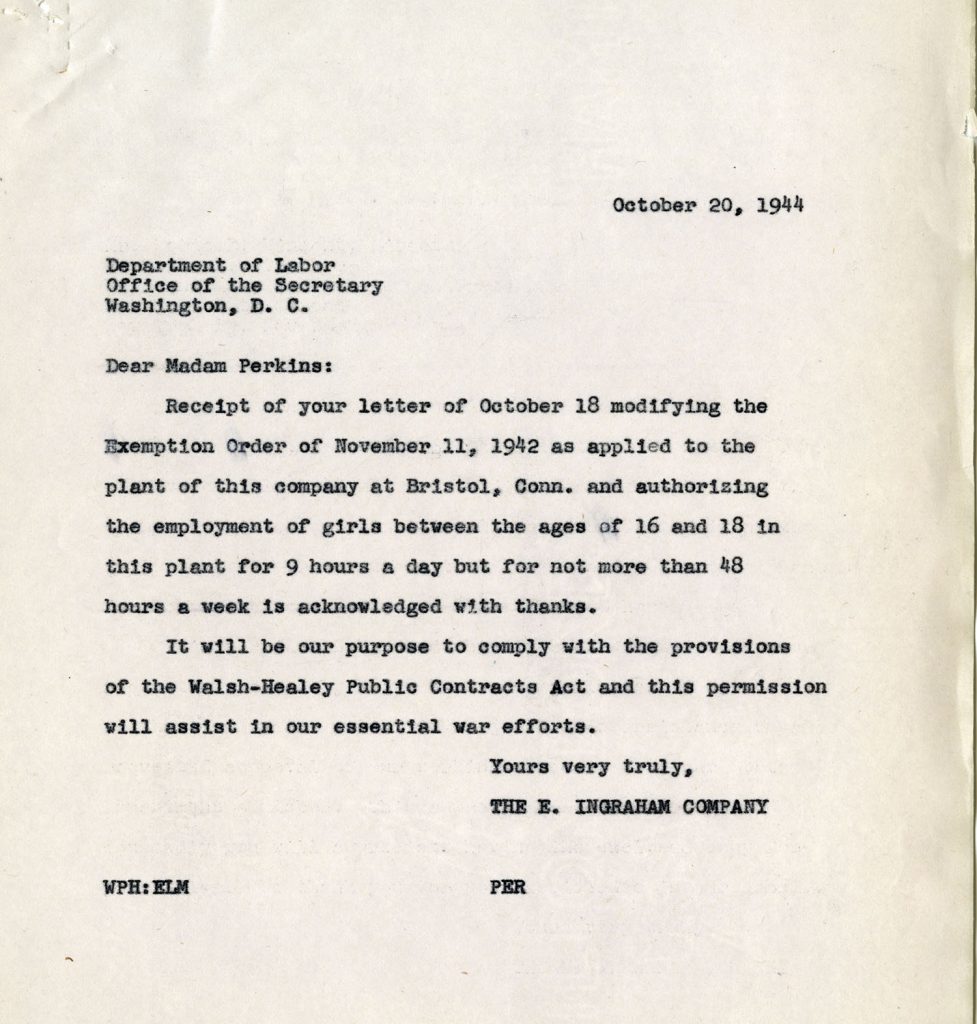 cal women had long labored in the E. Ingraham Company's Bristol factories. But World War II drew even more of them into the workplace. The relentless demand for munitions pushed company president Edward Ingraham to ask the federal government for a loosening of labor restrictions.
Appointed by Franklin Delano Roosevelt in 1933, Frances Perkins was the first woman to hold a cabinet-level position and has so far been the longest-serving Secretary of Labor. She devoted much of her life to defending the rights of women and children in the workplace. Moreover, setting limits on working hours had been one of her chief aims upon accepting her position. Perkins's approval of an extra hour of work for young women employed by the E. Ingraham Company thus illustrates the demands placed on daily life during war time.
In June 1945, with the war in Europe over and the need for munitions in decline, Perkins rescinded her prior authorization. Young women could no longer work more than eight hours, and the E. Ingraham Company returned to fashioning the clocks, watches, and other products that had made them a household name in the years before the war.