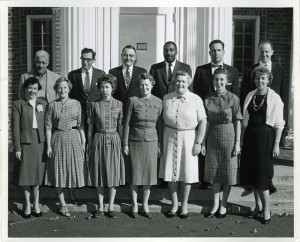 The first African-American professor at the University was Dr. Rollin Charles Williams, who was served as a professor in the School of Social Work from 1957 to his retirement in 1985.
Born in 1922 in Kansas City, Missouri, Dr. Williams was raised in Tulsa, Oklahoma, graduating from high school as its valedictorian and solo violinist in its orchestra. He graduated from Howard University and served in the U.S. Army during World War II, where he earned the rank of sergeant major. He earned his master's degree in social work from Boston University and then worked as a medical and psychiatric social worker for the U.S. Department of Veterans Affairs. Dr. Williams was the first psychiatric supervisor at Norwich State Hospital. Soon after that he was recruited by UConn to do field training for the School of Social Work, and asked to join the faculty in 1957.
Upon his retirement in 1985 Dr. Williams returned to his first love – music, particularly classical and operas. When he died in September 2012, at the age of 90, UConn President Susan Herbst wrote that he "exemplified the highest ideals of service, scholarship and integrity, and [left] a legacy that we can all strive to emulate."
This photograph, from the late 1950s, shows Dr. Williams third from the right. The man who is third from the left is Harleigh Trecker, dean of the School of Social Work from 1951 to 1968.