This summer we will begin work on the construction of a new staircase in Babbidge Library. The work will begin on May 13 and is anticipated to continue through January 2020. The bulk of the work will be done during the summer months and times when students are not in the facility to minimize the disruption but there will be work throughout the whole period of time.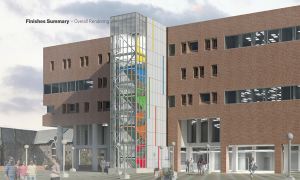 The staircase will be built on the south side of the building and is designed as a way to get from floor to floor but also as an addition exit in the event of an emergency. It will require that the Q Center relocate and we will provide more information on that as we move through construction.
For Library staff and other offices in the building, we will be holding two briefings to discuss the timeline and how it will affect the building:
April 17, 10-11am – Class of '47
April 23, 2-3pm – Class of '47
We will be adding regular updates here as the construction moves along.