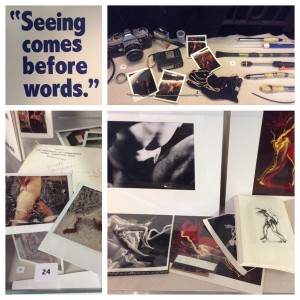 Don't miss the grand opening event today March 10 between 4:00 and 6:00 PM – a special Open-House to mark the opening of Spring exhibitions in Archives and Special Collections, located in the McDonald Reading Room at the Thomas J. Dodd Research Center. The event is free and open to the public.  Follow the event at #ArchivesReveal
Hear talks and commentary by exhibition curators, browse collection materials first-hand, and catch up on news happening behind the scenes with the archivists.  Spring 2016 exhibitions include:
Seeing Comes Before Words: Artists' Use of the Male Nude
Elizabeth Barbeau (curator)
Inspired by the collection of artist and teacher Roger Crossgrove, and drawing from materials across the Archives' holdings, this exhibition explores collaboration and the creative process through the lens of the male nude.  Featuring photography, artists's books, broadsides, and posters from Archives and Special Collections, materials on display emphasize the relationships between (and among) artists and their models, and art and its audiences, and illustrate ways "the male nude" is used in different mediums for a variety of political, social, and cultural purposes.
Woman a Machine: Gender, Automation, and Created Beings
Giorgina S. Paiella (curator)
Featuring a variety of materials sourced from Archives and Special Collections, and archives external to the University of Connecticut, Woman a Machine will explore the intersection of gender and automation from the eighteenth to the twenty-first century. This exhibition will explore the intertwined history of female created beings and human female embodiment, including representations of eighteenth and nineteenth century female android automata, the twentieth-century mechanized housewife, and cyborg imagery in twentieth and twenty-first century visual culture.
We'll see you in the Archives!
Sponsored by the UConn Libraries and the Office of Undergraduate Research IDEA Grants Program.