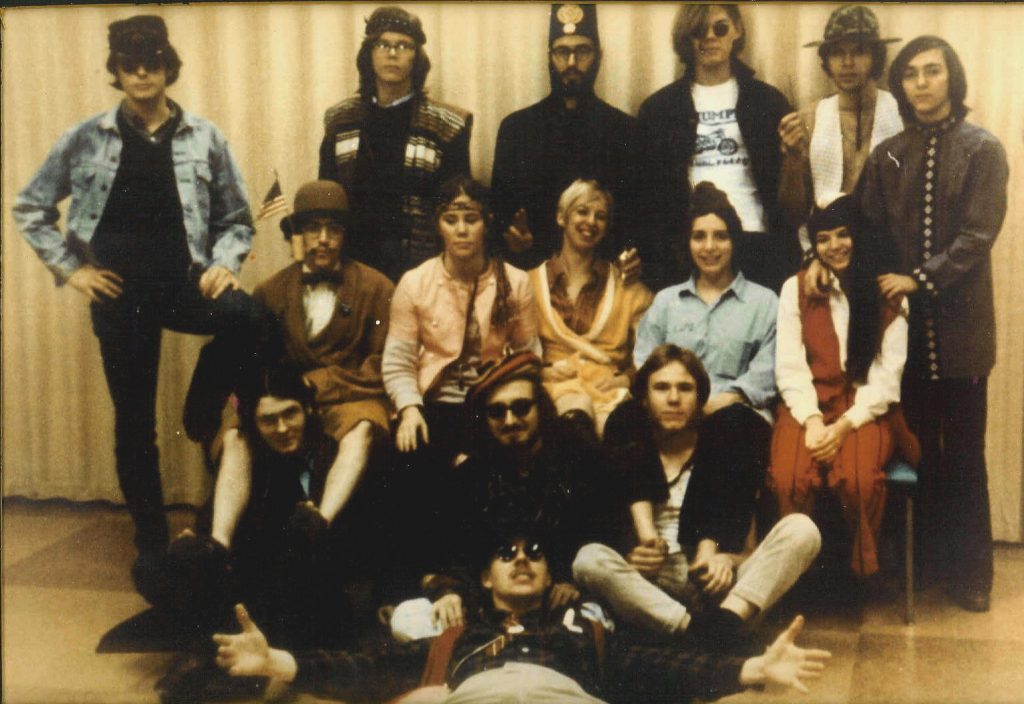 August 5th – October 25th, 2019
Reception: September 19th, 2019 6-8pm at the Thomas J. Dodd Research Center Gallery
Archives & Special Collections Gallery
Thomas J. Dodd Research Center
An exhibition guest curated by alumnus George Jacobi (Class of '71) on the student times of the late 1960s and early 1970s at UConn and in recognition of the 50th anniversary of the Woodstock Music Festival of 1969. Jacobi has curated materials from the Archives & Special Collections photography, periodicals and Alternative Press Collections and incorporated personal collections and narratives from those who lived through it to create a robust personal exploration of the times.
The following essay is an extended introduction to the exhibition Day-Glo and Napalm: UConn from 1967-1971 by guest curator and contributor, George Jacobi ('71).
DAY-GLO AND NAPALM: UCONN FROM 1967 to 1971
Recollections and Impressions for my University of Connecticut Archives Exhibit
George Jacobi ©2019
A small innocuous on-campus house is surrounded by angry UConn students, its front porch protected by armed, helmeted State Police and University Security Officers. The Riot Act has already been read to the 100 or so protesters, whose shoulders are hunched in Navy pea coats against a bitter north wind. It's the Tuesday before Thanksgiving, 1968. Some of those students spent the previous night with faces lit only by black lights, psychedelic music swirling around them. Smoke from illegal hash pipes drifted out dorm windows. A relaxed but resolute fellowship, they temporarily dwelt in an imaginary world.
Today, back in the daylight, they want UConn to divest itself from the military industrial complex, to end its involvement with Olin Matheson, manufacturer of missiles for the Vietnam War. In fact, they insist. They chant, they yell, they watch as the most committed among them climb onto the recruiting location's porch to put their bodies in the way of the war machine. This world is far from imaginary. Clubs swing, rocks fly, heads are bloodied. Twenty-one are arrested.
Within two years, the Student Union Mall will be filled with 4000 UConn students – now the entire college is on strike. What is it with these young people? For many, trust in the establishment, from government to church to the University, has completely evaporated. Something is badly broken. How have these middle-class kids, in just a year or two, come to a point of complete resistance to America herself?
The 50th Anniversary of 1969 is more than an appropriate time for this exhibit; it's also the last significant anniversary when many participants in this bit of history will be alive. Most of the counter-cultural political drama at UConn took place between 1968 and 1970 – '69 is a fitting centerpiece. Despite continued racial and anti-war protests, such communal events as the Woodstock Music Festival made 1969 almost feel like a short respite between the more violent bookends of the other two years.
Continue reading