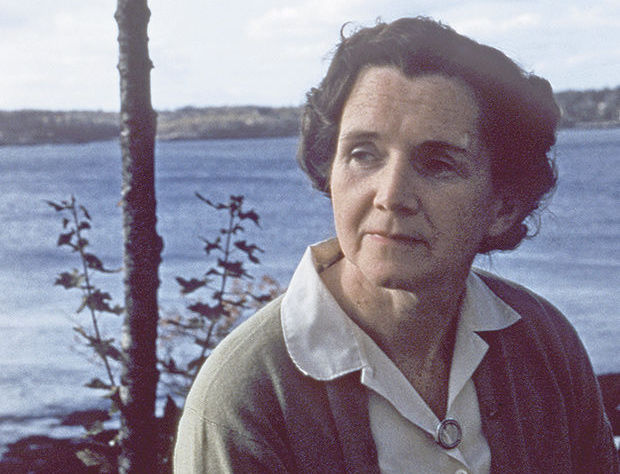 Rachel Carson, a new documentary film produced for the PBS series American Experience, is now available to watch online marking its debut broadcast on CPTV Connecticut public television.
Archives and Special Collections contributed collection materials to be included in the production of the film and we have been eagerly awaiting its release.
According to PBS, the film draws heavily from Carson's writings and letters and incorporates recent scholarship: "Rachel Carson illuminates both the public and private life of the woman who launched the modern environmental movement and revolutionized how we understand our relationship with the natural world."
The film features photographs and letters by the naturalist Edwin Teale from the Edwin Way Teale Papers held here in the Archives and Special Collections. [Read more about the correspondence between Teale and Carson on the blog post "Nature, Wondrous and Fragile" by Richard Telford.]
Silent Spring was published in September 1962 and became a national bestseller.  The film features rarely-seen images and home movies, unpublished letters and writings, and explores the science and public debate surrounding pesticide-use ignited by the book. Special features can be found on the American Experience website, including an introductory essay, bonus video, and an interview with Pulitzer Prize-winning journalist and science writer Elizabeth Kolbert.
Join us on Thursday, February 2 at 4:00pm to hear Elizabeth Kolbert's lecture "The Sixth Extinction" at UConn in the Dodd Research Center.  The event is FREE and open to the public, no registration is required.  The event will be live-streamed, details can be found here.
Elizabeth Kolbert is a staff writer for The New Yorker and won the Pulitzer for The Sixth Extinction: An Unnatural History and Field Notes from a Catastrophe: Man, Nature, and Climate Change in 2015. Her series on global warming, The Climate of Man, from which the book was adapted, won the American Association for the Advancement of Science's magazine writing award and a National Academies communications award. She is a two-time National Magazine Award winner.
The Edwin Way Teale Lecture Series brings leading scholars and scientists to UConn to present public lectures on nature and the environment.  Since 1995, the UConn Library has sponsored the award-winning Edwin Way Teale Lecture Series in partnership with several UConn departments.  The Lecture Series is named in honor of the Pulitzer-prize winning naturalist and author, Edwin Way Teale, whose vast archive of literary manuscripts, letters, diaries and photographs is preserved and accessible at Archives and Special Collections.