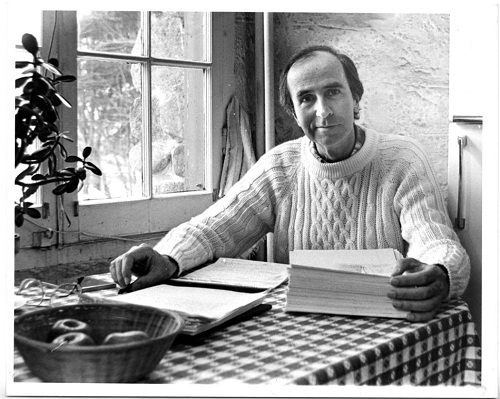 Author and Black Mountain College alumnus Michael Rumaker — writer of fiction, poetry, short stories, non-fiction and memoir — passed away on June 3, 2019.
Michael Rumaker was born in South Philadelphia to Michael Joseph and Winifred Marvel Rumaker, the fourth of nine children. He spent his first seven months in the Preston Retreat charity ward, too sickly to be brought home, while his mother helped pay for her keep and his birth by peeling potatoes in the hospital's kitchen. He grew up in National Park, New Jersey, a small town on the Delaware River, and later attended the school of journalism at Rider College in Trenton on a half-scholarship. After hearing artist Ben Shahn speak enthusiastically of Black Mountain College during a lecture at the Philadelphia Museum of Art, he applied to the college and was granted a work scholarship. In September 1952 he transferred to Black Mountain–washing dishes seven days a week, managing dishwashing crews, and taking care of the kitchen his first year–and studied in the writing classes of Charles Olson and Robert Creeley. While at Black Mountain College he produced three stacks of manuscripts, each a foot high, which he kept hidden on a top shelf.
His breakthrough was "The Truck," written for Olson's writing class in October 1954: "after two years of confused false starts and superficial scratchings, I wrote my first real short story, although, in what was to become usual for me, I didn't know it till after the fact." He had "reached back," by his own account, into his adolescence in the mid-1940s and a street gang he knew in the northern section of Camden, New Jersey, "to get it." Olson's response was enthusiastic, and he suggested that Rumaker send the story to Robert Creeley for the Black Mountain Review, which he published.
In September 1955 Rumaker graduated from Black Mountain with an honors degree ( Robert Duncan was his outside examiner)–one of only two or three students to have graduated from the college in its final years. After graduation, he lived in Philadelphia for a year, working in an advertising agency during the day and writing stories at night ("Black Mountain College," he wrote, "had prepared me for nothing but my destiny"). In October 1956, he quit his job at the agency and hitchhiked the three thousand miles to San Francisco, where he worked as a clerk for a steamship company, again writing in his spare time while staying with former Black Mountain friends there, on hand for the energies shortly to be recognized as those of the Beat Generation. He describes these days vividly in "Robert Duncan in San Francisco," part of his memoir of a literary life in progress.
He returned to New York in April 1958, suffered a breakdown some six months later, and was hospitalized, first at Bellevue and then at Rockland State just north of New York City, until August 1960. His first contract, then–four stories for Scribners' Short Story 2 anthology–was signed in a mental institution. Since recovery he continued to live in Rockland County.
Rumaker received an M.F.A. in creative writing from Columbia University in 1969 and taught writing at the New School for Social Research, City College of New York, the State University of New York at Buffalo, and Rockland Center for the Arts.
Beginning in the 1970s, Rumaker began publishing memoirs and poems as well as fiction, often using a first-person narrator. His principal subject was gay life in the novels A Day and A Night at the Baths and My First Satyrnalia, the memoir Robert Duncan in San Francisco, and the poem "The Fairies Are Dancing All Over the World," originally published in the periodical Gay Sunshine (1975) and later included in the 2005 release Pizza: Selected Poems.
According to George Butterick, who began reading and collecting Michael Rumaker's literary papers at the University of Connecticut in 1974, "Rumaker proceeded from writing about disengaged youth in a generation willing to declare its difference, to being a celebrant of total life and human joy. Actively participating in his own destiny, he has left a glowing trail of work to document the struggle toward identity. He represents, in his later writings, one extension of the Beat revolution: the embracing of sexual diversity. Governing all his work is an indefatigable spirit that gives the creative life reward."
The Michael Rumaker Papers, assembled by Rumaker, contains his literary manuscripts, letters, notebooks, diaries, photographs, audio recordings and periodicals documenting his life, writing, activism, friendships, and literary affinities from 1950 to 2015.
Rumaker was a friend, supporter and collaborator to archivists and staff at the University of Connecticut over the years. We send our condolences to Rumaker's friends and family. Read more on the website of The South Jersey Times.