May Day 2013, the recent collapse of a garment factory on top of hundreds of workers in Bangladesh just five days ago is yet another grievance charged against the global game of capitalism.  The inequalities exacerbated by globalization in Bangladesh have roots in the same issues facing workers the world over since the formation of wage labor:  the right to a living wage, the right to collective bargaining, an equal wage and the right to a safe working environment.  These grievances have been outsourced to the third world for commodity production which we see as goods in the US marketplace; however, the agriculture industry, for which 51% of US land is dedicated, relies on cheap labor power to harvest.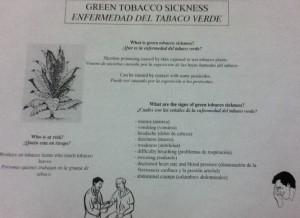 A recent acquisition to the Human Rights Collection are the records of UConn's Migrant Worker Health Clinic.  At the University of Connecticut Health Center, the office of the Migrant Worker's Health Clinic runs a mobile clinic at agricultural farms throughout the state, providing health, dental and eye care through volunteer physicians and students to seasonal migrant laborers.  Workers from Latin America and the Caribbean come to Connecticut to work on Tobacco and fruit farms without health coverage and other labor rights afforded to US citizens.  With immigration being a continually vibrant topic of discussion (as well as the shaper of the country we know today) this collection provides a very real context of local immigration issues surrounding the precarious labor relationship with foreign workers.  This collection is an ongoing acquisition which portrays the quantitative data on the labor pool itself as well as the outreach and resources provided on behalf of the clinic.
In addition, Robin Romano's photograph collection and personal papers from his work on child labor in the third world provide an important visual representation of what unrestricted market demand looks like.
For more information, please contact the curator to schedule an appointment to view these materials.