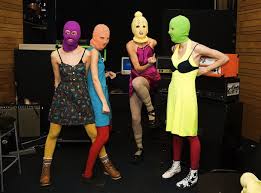 In a bold move, the Putin administration granted an amnesty releasing 30+ political prisoners from Russian penitentiaries last week.  Included in this band of rogues were members of the Greenpeace activist contingent arrested for disrupting Gazprom's arctic drilling operations, the former richest man in Russia oil tycoon Mikhail Khodorkovsky, and the two remaining  jailed members of the Russian feminist punk band Pussy Riot who denounced the church and Putin while taking the stage of a large Orthodox Church in Moscow by force.  Pussy Riot members had been moved to Siberian prisons as a punitive measure.  Many media sources, as well as the prisoners themselves, believe that the amnesty was passed to contradict Russia's glaringly bad human rights record.  This measure precedes the 2014 Olympics which will be hosted this year in Sochi.  Already large mobilization campaigns have begun to boycott the games because of the discrimination and brutality which LGBTQ communities face in even the most cosmopolitan centers of the country.
In relation to this, punk rock still carries a torch for challenging power through art and subversive culture.  A new collecting area has been initiated for the Alternative Press Collection at the Archives & Special Collections for 1980s and 90s punk rock ephemera.  Still being cataloged, the Joe Snow Punk Rock Collection features show flyers, demos, distro catalogs, photographs, zines and lots and lots of Maximum RocknRoll.  The finding aid will be published in the coming month and is currently available for research.
Contact the curator for more details on the APC Punk Rock Collection.