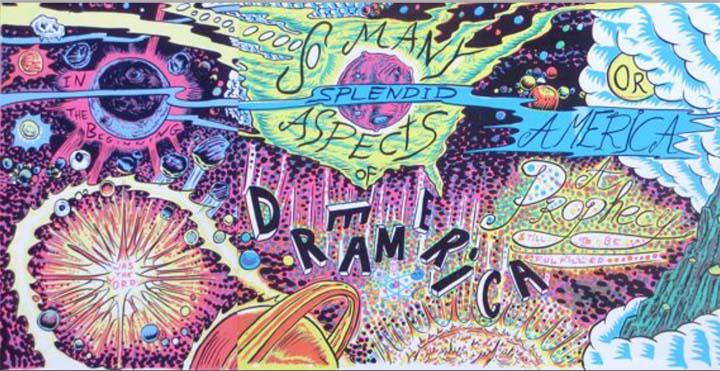 May 19 – August 11, 2023
Archives & Special Collections
Dodd Center for Human Rights
Curated by Graham Stinnett, Archivist

On display is the creative work of David Sandlin (b.1956), comics artist and printmaker. His multi-volume Guggenheim Fellowship project, 76 Manifestations of American Destiny, charts a dreamlike interstellar course from the Big Bang to the present historical moment. Volume 1 of this series depicts iconic references which continuously appear throughout each volume as specters of a disembodied past. In Sandlin's work, America's presidents, military icons, and cultural trademarks wreak havoc on the psyche of the family (the artist's own) caught between cultural performance and the dead weight of its umbilical living past.

Additionally on display are monographs and artist's books drawn from Archives & Special Collections which illustrate the source material for an artists' interpretation and the proliferation of ideas through varying degrees of enculturation in print. Featured are early printed pamphlets of President George Washington's farewell address from 1796 (a character featured prominently in Sandlin's 76 series), as well as other art forms like poetic interpretations of the Declaration of Independence, and children's books relating to the science of the Big Bang, the founding fathers, and histories of the Western frontier and the myth-making they engendered. Featured across from Sandlin's work is the Artists' Book author Mike Taylor (b.1976) who similarly explores the current state of politics in America through the historical record of presidential speeches, congressional documents, and their foretelling of a dystopian future.
Starting in 2021, Archives & Special Collection's acquired 76 Manifestations of American Destiny Volumes 1-4 and will add the final volumes to the collection as they are completed.