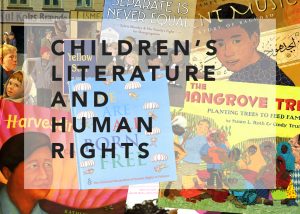 Join us for the presentation of the 2016 Raab Associates Prize and a discussion of Human Rights, Children's Literature, and the Art of Youth Activism featuring Professor Jonathan Todres, Author of Human Rights in Children's Liteature: Imagination and the Narrative of Law (Oxford University Press, 2016), Pegi Deitz Shea, author of numerous books for young people including Abe in Arms (PM Press, 2010) and The Carpet Boy's Gift (Tilbury House, 2003), and Reven Smith Spoken word poet, musician, writer, social activist, and UConn student.
TODAY, November 10, 2016
4:00pm to 6:00pm
Konover Auditorium, Thomas J. Dodd Research Center
University of Connecticut
Public reception to follow.  Directions to the Dodd Research Center and event details can be found at Thomas J. Dodd Research Center Events.
ABOUT THE RAAB PRIZE:
The Raab Associates Prize has been given since 1999 to give University of Connecticut students the opportunity to learn about illustrating for children and the children's literature field. The competition was created and sponsored by Susan Salzman Raab, founder and co-owner of Raab Associates, a children's book marketing agency based in Swarthmore, Pennsylvania.
This year, for the first time, the prize has focused on human rights, and specifically children's rights, and represents a joint effort between UConn's Thomas J. Dodd Research Center and the School of Fine Arts.  Ms. Raab, who is also a 1980 UConn alumna with a degree in English, especially wants to encourage and support people who have interests in the arts and in human rights. The competition is held annually and the prize is awarded to students enrolled in the University of Connecticut's School of Fine Arts' illustration courses.