Carey MacDonald is an undergraduate Anthropology major and writing intern. This is the final post in Carey's blog series Through the Lens of an Anthropologist, in which she analyzes artifacts found in the collections of Archives and Special Collections.
The School of Home Economics, which served as the foundation for the future School of Human Development and Family Studies at the University of Connecticut, educated university students, particularly women, in the skills of sewing, cooking, and generalized homemaking. The Clothing, Textiles, and Related Art major (CTRA) within the School of Home Economics specialized in clothing, dress, and costume design and construction. A small collection of Home Economics dresses found in the Archives contains several dresses from 1968, two of which are of particular interest because of their especially professional design.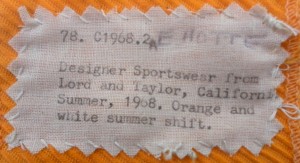 The first is an orange and white shift dress made of thick corduroy. Its loosely sewn label provides us with the following information, "Designer Sportswear from Lord and Taylor, California Summer, 1968. Orange and white summer shift." This would suggest that the dress was not made by a student but was produced by the department store, Lord and Taylor. Yet this is particularly confounding because Curator for Multimedia Collections Kristin Eshelman believes that the dress looks handmade. It is hard to determine whether this dress was only used in the classroom for students to model their work after or if it was actually produced in the classroom by a student.
This dress does provide some concrete evidence for its context: handwritten on the label is "E Hotte." According to The University of Connecticut Bulletin 1968-69 General Catalog, Mrs. Eleanor Hotte was an associate professor for the Clothing, Textiles, and Related Art major within the School of Home Economics. She taught a semester-long, two-credit course in Costume Design which, according to the course catalog, provided students with the "opportunity to develop originality in the design of costumes and to appreciate line, color, and texture in relation to the human figure." Interestingly, going back just one year to the catalog for the academic year of 1967-68, Eleanor Hotte was Eleanor Boettke. She taught a course called Research Problems with Mr. Hotte for at least that year, and it seems that by a year later she was married and had taken his name. This dress was therefore used in some fashion in one of Mrs. Hotte's classes, most likely for Costume Design or another class called Dress Design.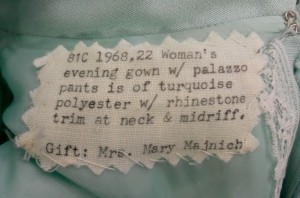 Another 1968 dress found in the collection is of a more fanciful stock; its label states, "Woman's evening gown w/ palazzo pants is of turquoise polyester w/rhinestone trim at neck & midriff."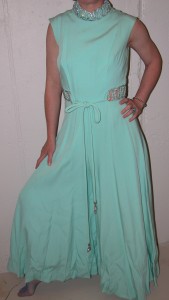 This flashy gown with widely flared palazzo pants was given as a gift, as the label also shows, "Gift: Mrs. Mary Majnich." It is possible that a student gave this dress to Mrs. Majnich or that Mrs. Majnich gave this dress to university students. Since its label is of the same style as the shift dress's label, it is probable that both dresses had the same, original context; they were either given to the university for students to use in class or were created by students at the university.
Ultimately, when it was in existence, the School of Home Economics was clearly seriously invested in training students to be skilled in clothing design and homemaking. Our recent cultural shift away from valuing home economics as a field of study is represented in the transformation of the School of Home Economics into the wider-in-scope School of Human Development and Family Studies here at the University of Connecticut.
Carey MacDonald, writing intern