I cannot desire you to adopt the example of our Heroine, should the like occasion offer ; yet, we must do her justice. (Mann 116)
Thus speaks Herman Mann, the author of The Female Review: or, Memoirs of an American Young Lady (1797), whose opinions in addition to his doubly-masculine name indicate his deep disapproval of his subject, Deborah Sampson Gannett,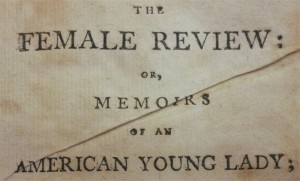 an unusual woman "whose life and character are peculiarly distinguished—Being a continental soldier for nearly three years in the late American war" (Mann 1).
That's right, folks—here, after looking at the indomitable Henry Tufts, we have yet another unlikely veteran of the American Revolution, this time a woman, who, finding herself too constrained by society, "determined to burst the bands, which, it must be confessed, have too often held her sex in awe" (Mann 110), and "join[ed] the American Army in the character of a voluntary soldier" (114), "enrolled by the name of ROBERT SHURTLIEFF" (Mann 129).
Sound fascinating? Certainly. Brave? Undoubtedly. Improper? Ask Mann. Mann must ask the question of what to do with this woman war hero, as it is his self-appointed task to tell of Gannett's actions, but his disapproval is apparent everywhere, beginning with a disclaimer that he writes "not with intentions to encourage the like paradigm of FEMALE ENTERPRISE—but because such a thing, in the course of nature, has occurred" (Mann iii). Get the picture? Don't anybody get any ideas. You're only hearing this story because it's true. It happened, and Gannett did fine, and served her country with honor, but Mann doesn't want to risk indicating approval.
Mann does, however, intend to influence the conduct of American women, with his text becoming by intention one of instruction. He begins by saying "there are but two degrees in the characters of mankind, that seem to arrest the attention of the public. The first is that of him, which is the most distinguished in laudable and virtuous achievements. . . The second, that of him, who has arrived to the greatest pitch of vice and wickedness" (Mann v), and that "whilst the former ever demands our love and imitation, the other should serve to fortify our minds against its own attacks." Stories of virtue and stories of vice can all lead you to virtue. Mann doesn't say which he thinks this story is, though, and when we consider that Henry Tufts speaks in the same way of his criminal autobiography, "that [the life] of the vicious, affords, also, instruction, by showing effects of vice and immorality" (Tufts vii), regard doesn't seem too high for Gannett in The Female Review. Continue reading →