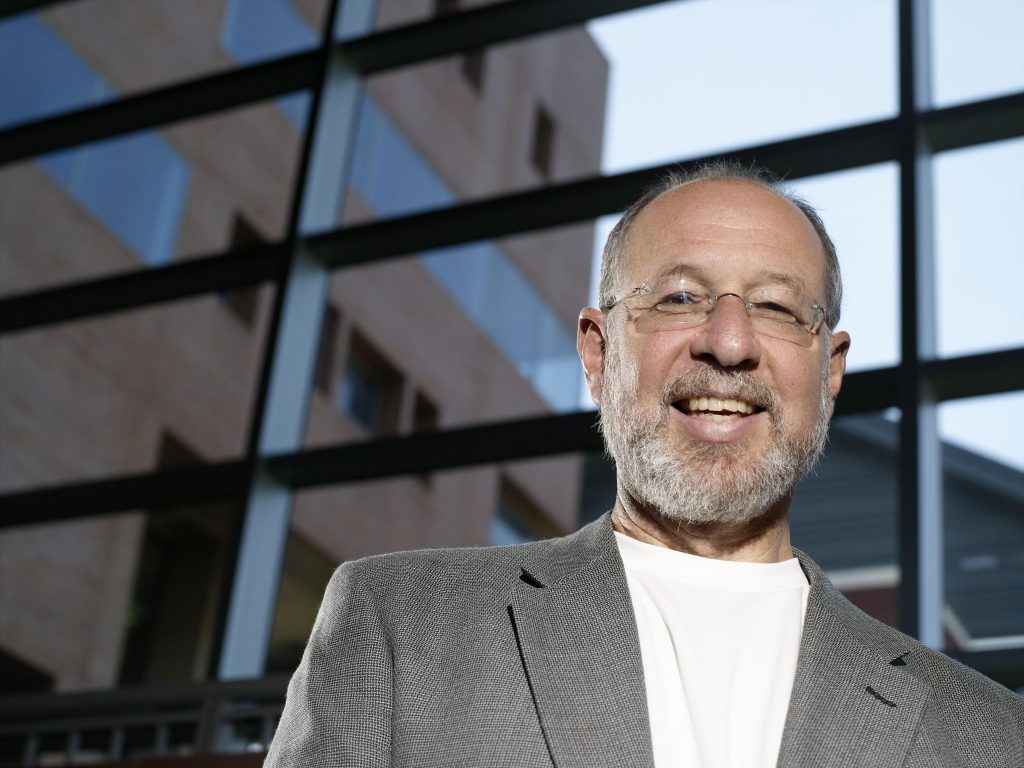 It's with great sadness we share the news of the passing of Vice Provost Emeritus Brinley Franklin. When Brinley began his career at UConn in 1990, the Homer Babbidge Library was precariously wrapped in plastic but over the course of his 23 years he led us through a transformational time in academic libraries by fostering innovation and collaboration. Often quiet and contemplative, he had a thirst for knowledge and a smile that was infectious. A numbers guy at heart, none of the spreadsheets or his trusty mechanical pencil as described by the memorial his family shared below, were ever more important to him than the people that worked for him.
Brinley R. Franklin (b. December 19, 1950 Washington DC- d. March 5, 2020, Bristol, RI) 69, passed peacefully on Wednesday, March 5, 2020, at his home in Bristol, RI surrounded by his wife and children.
Brinley, known as Brin to his friends and family, was a devoted husband, father, and friend whose love for music, modern art, and travel poured into everything he did. A research librarian to his core, he spent his life in a constant state of awe about all that the world had to offer. He looked ahead and welcomed new people and ideas with fascination. He traveled extensively, spending time on every continent except Antarctica. He was never not listening to music and found great pleasure in attending rock concerts near and far and in collecting albums and photographs of rock musicians. He also attended countless sporting events from college basketball to the U.S. Open. Brin loved a competitive tennis match with his buddies and was always trying to improve his game. He was an active member of the yoga community in Bristol and he believed fiercely in the power of meditation and thought. He was inspired by nature and in his last year led a collaboration of neighbors to rejuvenate the Japanese Garden in the historic North Farm Arboretum. And let's not get started on his passion for Dylan, popular culture and his ability to subtly look great in Italian fashion.
Brinley's professional career began in Washington DC, where he was a Corporate Librarian and Senior Consultant for Price Waterhouse Coopers and KPMG. Brinley went on to become Associate Director, Director, Vice Provost, and Vice Provost Emeritus of the University of Connecticut Libraries in Storrs, CT where he spent over two decades leading the transformation of the libraries and research centers from traditional to digital institutions. He sat on the Dean's Council at UConn and assumed other university-wide administrative roles.
In addition to his work at the University of Connecticut Libraries, Brinley served as President and Committee Chair for the Association of Research Libraries and served as President of the Boston Library Consortium. He was globally recognized and renowned as a leader in library institutions, where he was known for his calm and analytical approach to both professional issues and especially to leadership. He built his considerable professional reputation on his meticulous approach to managing library data systems, while in leadership and professional matters, Brinley was always as sharp as the lead in the mechanical pencil that was his constant companion.
Brinley was the founder and Principal for Library Management Consulting, LLC and the primary consultant in the U.S. for assisting colleges and universities with the optimization of overhead cost recovery related to library expenses that support sponsored grants and contracts. The methodology Brinley developed, and perfected over the years in collaboration with other colleagues, provided higher education institutions with the data necessary to negotiate the library component of the indirect cost rate in accordance with federal regulations. In 2019, Library Management Consulting was acquired by Attain, a leading management, technology, and strategy consulting firm based in McLean, VA.
Brinley was the son of Joachim Frankenstein (later John Franklin) and Susi Ehrenberg (Mrs. John Franklin) who emigrated to the United States from Germany in the early 1940s to escape Nazi persecution. Brinley began his formal education at the University of Maryland at College Park, where he earned his BA in American Studies and MLS in Library and Information Sciences. He took a brief educational hiatus to live in Vermont before he went on to acquire an MBA from George Washington University.
Those who were close to him will tell you the most important part of Brinley's character, and maybe the most subtle, is that he looked out for you, in many small but important ways, and in a style that made what he did almost invisible. If you were close to him you just knew that he thought about you and tried to make your life better. He did things for you without your asking and he told you what you needed to hear, in a way that you heard it, without rancor, when you needed to hear it … a rare gift. His honesty was exceptional; you didn't ask him a question if you didn't want a direct answer.
Brinley is survived by his wife Raynna Bowlby; his children, Marga and Woody Franklin and Drew Genetti and his wife Erin; his grandchildren Hayden, Avery, and Finley Genetti; his sister, Carol Stinson and her husband Joel; his nephew, Kurt Stinson and his wife Jeanne; his grandnephew and grandniece Mack and Ketty Stinson; and lastly his best friend and goldendoodle, Skylos.
A celebration of his life will be held at the Japanese Garden and Arboretum in the Spring near Brinley and Raynna's home in North Farm, Bristol RI.