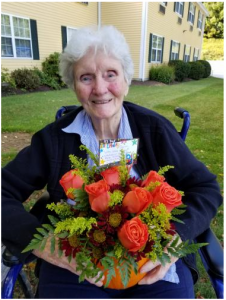 Carmel T. O'Neill, "Carm" Library Director at UConn Stamford for over 20 years, passed way on November 13, after a courageous battle with Parkinson's Disease. Mrs. O'Neill (as she was called by the students) began her career at UConn in the spring of 1975 when the first library for the UConn Stamford branch was newly built at the Scofieldtown Road location.
She retired in 1995 before the campus moved to its current downtown location in 1998. Carm built the UConn Stamford library into one that eventually consisted of 58,000 volumes, 950 journals, 50,000 microforms, 9,500 annual reports, and 1,300 LPs. She was instrumental in getting the library named after her beloved colleague and friend, Dr. Jeremy Richard, who donated much of his book and record collection to the library.
After she retired, Carm was an active volunteer for 20 years at the C.H. Booth Library in Newtown, CT, where she was one of the coordinators of the annual book sale.
We spoke with Norman D. Stevens, Director of University Libraries, Emeritus and he wrote, "one of my responsibilities from the time I joined the library staff was the oversight of the regional campus libraries. While I was not involved in her hiring, I found Carm to be an excellent choice who required a minimum amount of assistance or oversight. My regular twice a year visits were well worth the travel time. While we discussed the few library issues that needed attention, the highlight of those visits was the wonderful luncheons I was offered, and the opportunity to meet with the entire, small, library staff. I maintained contact with Carm for a number of years after her retirement and continued to enjoy hearing about her and her former staff members."
A gathering of family and friends will take place to remember and celebrate Mrs. O'Neill's life on Tuesday, December 4, at 11 am, in The Villa, 4 Riverside Road, Sandy Hook. Obituary